NHL: Columbus Blue Jackets overwhelm the league's tightest defence
The Blue Jackets hammered San Jose Sharks - the tightest defence in the NHL this season - 6-2 in Colombus.
Last Updated: 12/02/13 9:26am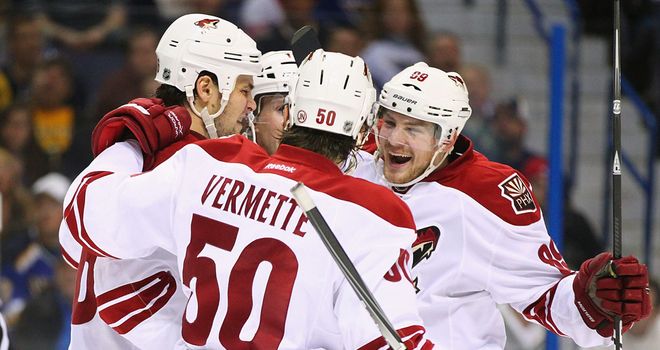 Brandon Dubinsky had a goal and an assist as the hosts cruised to victory, James Wisniewski, Nikita Nikitin, Cody Goloubef, Vinny Prospal and Mark Letestu also on target.
Prospal and Letestu tied a franchise record by scoring eight seconds apart in the third period whilst Patrick Marleau and Joe Pavelski scored for the Sharks.
Elsewhere Alexander Semin netted his 200th NHL goal and Jiri Tlusty scored twice and had two assists as the Carolina Hurricanes scored four third-period goals and overcame three deficits to beat the Islanders 6-4, New York's fifth straight defeat.
Semin got help on his milestone goal as his shot from the right-wing boards hit the helmet of Islanders defenseman Travis Hamonic, cannoned off the post and past goalie Rick DiPietro.
In Toronto, the Maple Leafs downed the Philadelphia Flyers, Colton Orr and Matt Frattin scoring goals 28 seconds apart in the second period.
At St Louis, Jeff Carter scored twice for the first time since the Stanley Cup decider, helping the Los Angeles Kings crush the St. Louis Blues 4-1.
Phoenix's Shane Doan scored his second goal of the game at 4:01 of overtime and Mike Smith stopped 41 shots as the Coyotes edged the Colorado Avalanche 3-2, while the Minnesota Wild got their first road victory of the season at Calgary, winning 2-1.