NHL: Eric Fehr nets overtime winner for the Washington Capitals
The Washington Capitals produced a stunning comeback as they rallied from 3-0 down to beat the Boston Bruins.
Last Updated: 06/03/13 6:56am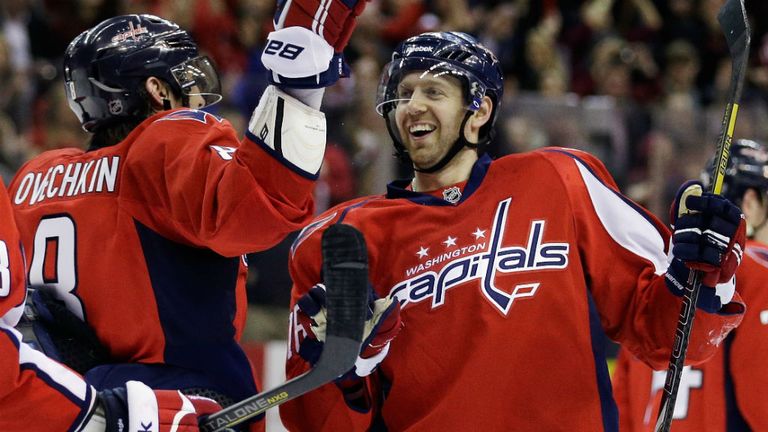 Brad Marchand, Zdeno Chara and Dougie Hamilton had given Boston a 3-0 lead in the first period.
However the Capitals kept chipping away, with Wojtek Wolski, Mike Ribeiro and Tomas Kundratek taking the game into overtime.
And Eric Fehr's strike 37 seconds into the extra time helped Washington claim a seventh win in 10 games.
Two goals apiece from Ryan Callahan and Rick Nash saw the New York Rangers to a 4-2 victory over the Philadelphia Flyers.
Henrik Lundqvist also made 23 saves for the Rangers, although Wayne Simmonds and Jake Voracek scored power-play goals in the first period for Philadelphia.
Assists
The Tampa Bay Lightning were 5-2 winners over the New Jersey Devils with Nate Thompson scoring twice and Martin St Louis and rookie Alexander Killorn each having a goal and an assist.
The Montreal Canadiens suffered a first regulation loss in nearly a month with a 5-3 defeat to the New York Islanders, while the Carolina Hurricanes won 4-3 over the Buffalo Sabres as Alexander Semin had a goal and two assists and Eric Staal added three assists.
Sergei Bobrovsky stopped both shots he faced in the shootout as the Columbus Blue Jackets defeated the Edmonton Oilers 4-3.
The Florida Panthers beat the Winnipeg Jets 4-1 as Tomas Kopecky, Shawn Matthias and Mike Santorelli scored and Jonathan Huberdeau converted a penalty shot.
Johan Franzen and Niklas Kronwall scored for the Detroit Red Wings as they beat the Colorado Avalanche 2-1, Paul Stastny scoring for Colorado.
The Chicago Blackhawks beat the Minnesota Wild 5-3, San Jose Sharks were 3-2 shootout winners against the Vancouver Canucks and the Los Angeles Kings won 6-4 against the St Louis Blues.