NHL: New York Islanders end Washinton Capitals' three-game winning streak
John Taveres scored twice as the New York Islanders ended the Washington Capitals' win streak on Saturday.
Last Updated: 10/03/13 9:31am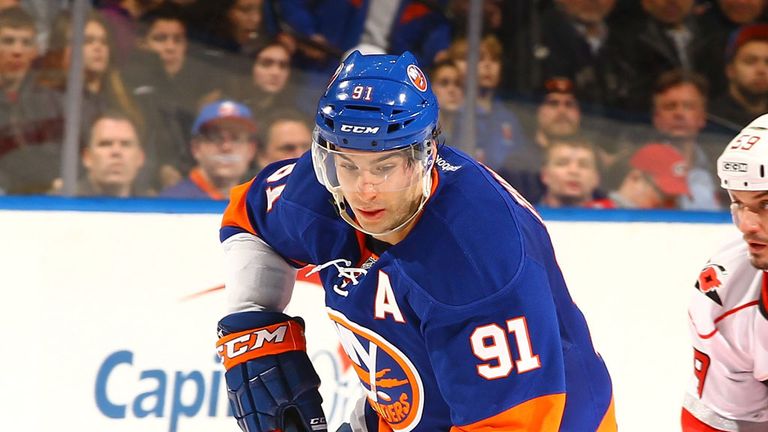 Tavares scored his 15th goal and his team-leading 16th - the latter the 100th of his career - in the space of 30 seconds. Josh Bailey, Casey Cizikas and Frans Nielsen also scored for the Islanders.
The Columbus Blue Jackets defeated the Detroit Red Wings 3-0 as Sergei Bobrovsky made 29 saves in his first career shutout.
Bobrovsky, acquired in a trade with Philadelphia last summer, picked up his first career shutout in his 99th NHL game and 16th with Columbus.
Cam Atkinson and Nick Foligno took advantage of Detroit giveaways to score goals and Jack Johnson also picked up a power-play goal for the Blue Jackets who have won four straight.
Flyers beaten
The Boston Bruins beat the Philadelphia Flyers 3-0 as Tyler Seguin scored his third goal in two games, Chris Kelly and Daniel Paille also finding the net.
Vladimir Sobotka recorded his first career hat-trick and Patrik Berglund scored 72 seconds into overtime as the St Louis Blues beat the San Jose Sharks 4-3.
The Pittsburgh Penguins recorded a NHL-leading 11th road win with a 5-4 shootout defeat of the Toronto Maple Leafs, Sidney Crosby and James Neal both finding the target in the shootout.
The Carolina Hurricanes continued their upward swing with a 6-3 win over the slumping New Jersey Devils as Jiri Tlusty hit two goals for the Hurricanes.
The Eastern Conference-leading Montreal Canadiens won 4-3 against the Tampa Bay Lightning, the Phoenix Coyotes won 2-1 against the Dallas Stars, Minnesota Wild defeated the Nashville Predators 2-1 and the Los Angeles Kings downed the Calgary Flames 6-2.