NHL: Patrick Kane nets the shootout winner as Blackhawks halt two-game slide
Patrick Kane got the shootout winner as the Chicago Blackhawks halted their two-game slide by edging out the Columbus.
Last Updated: 15/03/13 7:51am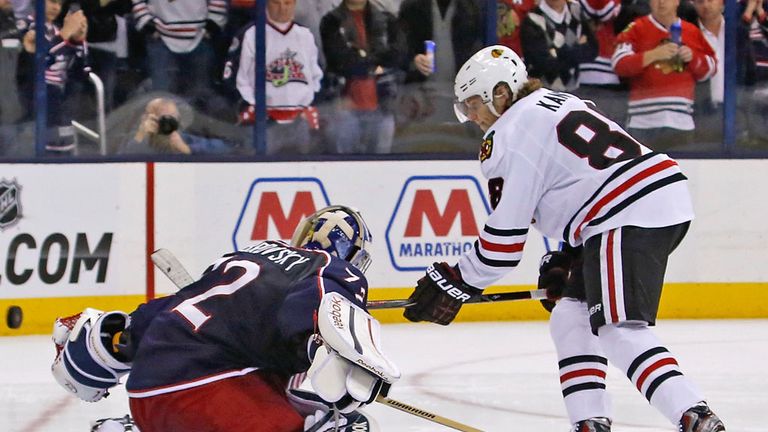 Kane's first contribution was to set up Johnny Oduya for Chicago's opener in the second period, but the lead lasted less than a minute before Jack Johnson equalised.
Kane then made the decisive intervention in the shootout to ensure the Blackhawks got back on track after their mini-skid.
Pascal Dupuis scored twice as the Pittsburgh Penguins came from behind to beat the Toronto Maple Leafs 3-1.
After Tyler Bozak put the Leafs ahead, Dupuis' double and a goal from Craig Adams all in the third period ensured the Penguins won their seventh game in a row.
Brace
Two goals from Patrice Bergeron helped the Boston Bruins to a 4-1 win over the Florida Panthers. Zdeno Chara and Shawn Thornton also scored for Boston, while Tuukka Rask made 29 saves.
Goals from John Tavares and Brad Boyes handed the New York Islanders a 2-0 win over the Tampa Bay Lightning, with Evgeni Nabokov claiming his second shutout of the season.
Chris Stewart scored twice and Jake Allen earned his first his first NHL shutout as the St Louis Blues beat the Phoenix Coyotes 3-0.
Seven different men were on the scoresheet for the Vancouver Canucks in a 7-4 win over the Nashville Predators, while the San Jose Sharks saw off the Los Angeles Kings 4-3 and the Anaheim Ducks overcame the Dallas Stars 2-1 after a shootout.
The Winnipeg Jets beat the New York Rangers 3-1, the Washington Capitals edged out the Carolina Hurricanes 3-2 and the Minnesota Wild were 5-3 winners over the Colorado Avalanche.