NHL: Pittsburgh Penguins register 14th successive win
Pascal Dupuis scored twice to help the Penguins to their 14th consecutive victory with a 4-0 win over the Jets.
Last Updated: 29/03/13 9:05am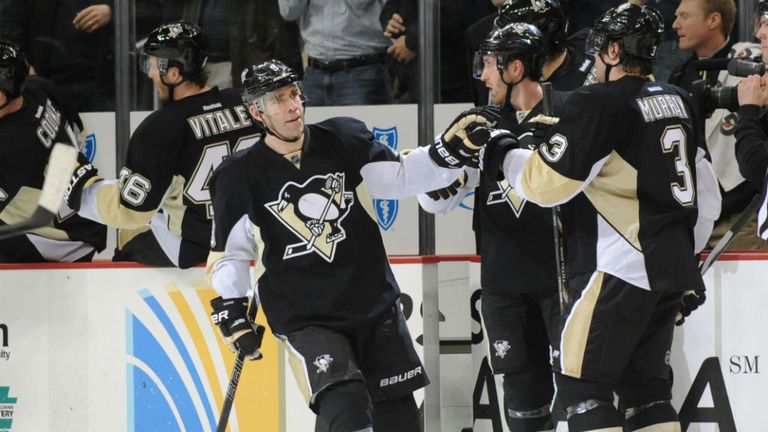 Evgeni Malkin also netted on his return from injury, while Chris Kunitz completed the scoring and there was even a first-ever assist for goaltender Tomas Vokoun.
Andre Benoit, Guillaume Latendresse and Colin Greening scored and Ben Bishop notched his second career shutout with 24 saves for Ottawa Senators as they beat the New York Rangers 3-0.
Antii Niemi claimed his second shutout in as many nights as the San Jose Sharks beat the Detroit Red Wings 2-0. Joe Pavelski and Brent Burns got the goals for the Sharks.
Shootout
Radim Vrbata registered two goals and an assist as the Phoenix Coyotes romped to a 7-4 victory over the Nashville Predators.
Martin Hanzal, David Moss, Matthew Lombardi, Keith Yandle and Antoine Vermette also scored for the Coyotes, while Rostislav Klesla provided four assists.
Colin McDonald scored twice for the New York Islanders as they edged out the Philadelphia Flyers 4-3 via a shootout.
The Florida Panthers claimed a 5-4 shootout win over the Buffalo Sabres, while the Edmonton Oilers beat the Columbus Blue Jackets 6-4.
The Vancouver Canucks were 4-1 winners over the Colorado Avalanche, the Los Angeles Kings beat the St Louis Blues 4-2 and the Toronto Maple Leafs saw off the Carolina Hurricanes 6-3.