NHL: Pittsburgh Penguins secure Atlantic Division title with 5-3 win over Carolina
The Pittsburgh Penguins wrapped up the NHL Atlantic Division title with a 5-3 win over the Carolina Hurricanes.
Last Updated: 10/04/13 7:49am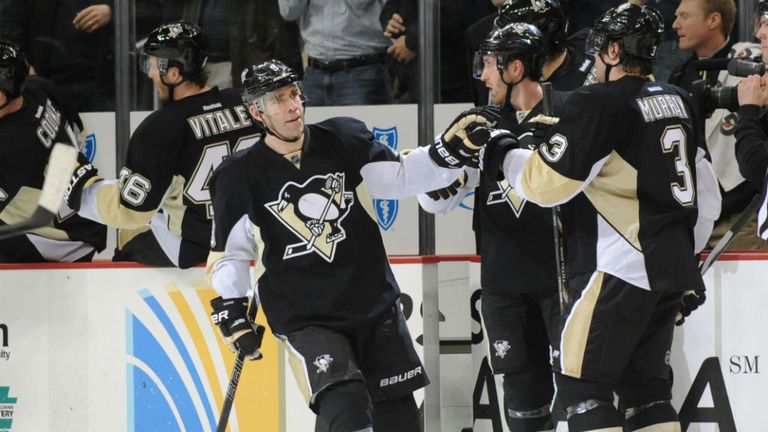 Pascal Dupuis had a goal and two assists as the Penguins, already assured of a play-off spot, became the first team in the league to clinch their division, with eight games to spare.
Recent signing Brenden Morrow, who scored Pittsburgh's second goal, told nhl.com: "Coming from a team (the Dallas Stars) that's kind of puttering around in ninth and 10th (in the Western Conference), then getting to a team like this where winning is contagious, I'm just happy to be a part of it."
Nearest challengers the New York Islanders could not prevent Pittsburgh's divisional title despite beating the Philadelphia Flyers.
A goal and an assist from Matt Moulson helped the Islanders to a 4-1 win, their fourth straight home success.
The only other team whose play-off berth is confirmed, the Chicago Blackhawks, moved to the brink of the Central Division title with a 1-0 win over the Minnesota Wild.
Shutout
An unassisted goal from Marian Hossa, after intercepting Clayton Stoner's pass, was enough to settle a cagey game in which Hawks goalie Ray Emery recorded a 20-save shutout.
The St Louis Blues remain 18 points behind the Blackhawks, with 10 games remaining, after also recording a 1-0 win. Alexander Steen's goal downed the Nashville Predators as birthday boy Brian Elliott saved 15 shots.
Sergey Bobrowsky was also able to celebrate a shutout, saving 30 shots as the Columbus Blue Jackets beat the San Jose Sharks 4-0 with a goal and an assist from Marian Gaborik.
South-East Division leaders the Washington Capitals beat North-East counterparts the Montreal Canadiens 3-2 with the help of Alex Ovechkin's sixth goal in three games. Montreal's Lee Eller book-ended the scoring.
The Winnipeg Jets remained only two points behind the in-form Capitals with a 4-1 win over the Buffalo Sabres. Andrew Ladd had a goal and an assist.
The Tampa Bay Lightning beat the Ottawa Senators 3-2 to keep their slim play-off hopes alive while in the Western Conference, the Dallas Stars routed Pacific Division rivals the Los Angeles Kings 5-1. Vernon Fiddler and Ray Whitney scored two goals apiece in the third period.