NHL: Kings through, Ducks force game seven, Maple Leafs beat Bruins
Dustin Penner scored the winner as the Los Angeles Kings secured a 4-2 series success over the St Louis Blues.
Last Updated: 11/05/13 8:20am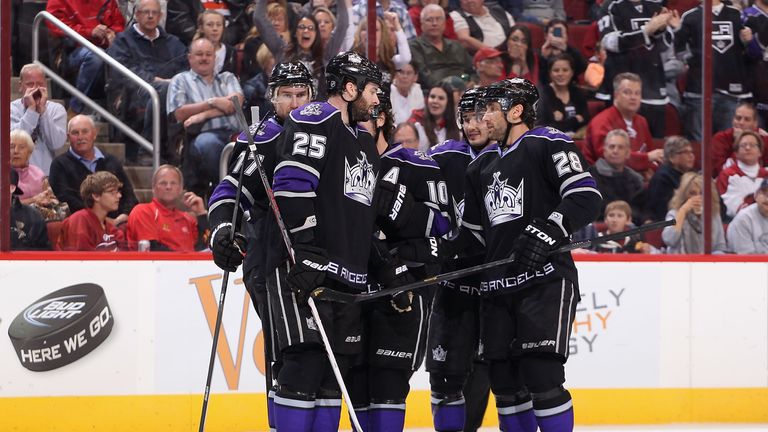 Drew Doughty opened the scoring for the Kings in the first and Chris Porter levelled 4:39 into the second, before Penner decided it with a stunning buzzer-beating effort which needed a replay to confirm it crossed the line in time.
The reigning Stanley Cup champions sealed a 4-2 series win and will next face the San Jose Sharks, who whitewashed the Vancouver Canucks.
Henrik Zetterberg scored an overtime winner as the Detroit Red Wings beat the Anaheim Ducks 4-3 to force a seventh and deciding game in their Western Conference quarter-final series.
Anaheim seemed to have all the momentum when Emerson Etem and Bobby Ryan tallied in the third to take the game to OT, but Zetterberg scored his second of the game 1:04 into the extra period to tie the series at 3-3, with game seven scheduled for Sunday.
Pavel Datsyuk and Daniel Cleary also scored for Detroit, while Kyle Palmieri scored for Anaheim.
Maple Leafs still alive
Goals from Tyler Bozak and Clarke MacArthur kept the Toronto Maple Leafs alive with a 2-1 win over the Boston Bruins.
James Reimer made 43 saves for Toronto, who pulled back to 3-2 in the series, while Zdeno Chara tallied for Boston.
Mike Ribeiro's overtime winner gave the Washington Capitals a 2-1 victory over the New York Rangers and a 3-2 series lead.
Brian Boyle grabbed an early opener for the Rangers, before Joel Ward levelled for the Capitals to force OT.