Stanley Cup Finals: Boston Bruins beat Chicago Blackhawks in overtime with Daniel Paille strike
Daniel Paille's overtime goal saw the Boston Bruins beat the Chicago Blackhawks to level the Stanley Cup Finals at 1-1.
Last Updated: 16/06/13 8:36am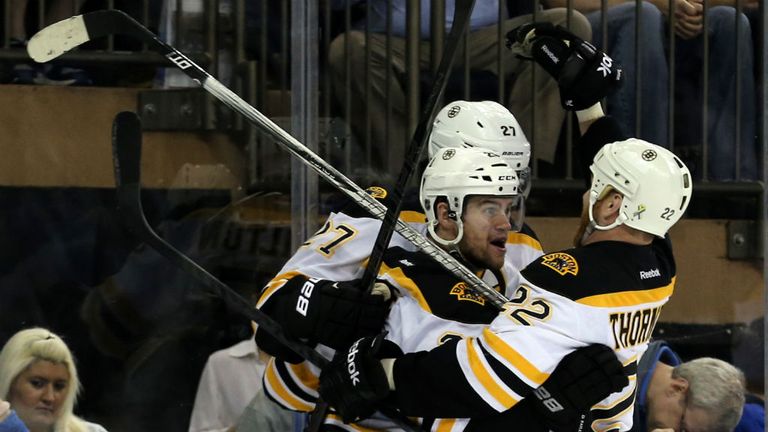 Game one had gone 4-3 in triple overtime to the Blackhawks, who visit Boston in game three on Monday, and the second encounter had again gone to overtime when Paille pounced.
As the Blackhawks failed to clear the puck along the boards, Tyler Seguin picked it up and delivered a cross-ice pass to Paille who beat Corey Crawford the winner at 13:48 of the extra period.
Crawford and Boston's Tuukka Rask were outstanding in goal again, turning away shot after shot in the extra period until Paille scored, matching their efforts in game one.
Jaromir Jagr just missed scoring the game-winner in the opening minutes of OT when his shot from the right circle hit the right post, his second near miss in as many games.
Chris Kelly, who scored in the second period for Boston, had a shot from the slot stopped by Crawford at 5:39 of overtime.
The Blackhawks pressed early in game two as they went out to build on the advantage of winning game one, taking the lead in the first on Patrick Sharp's ninth goal of the post-season.
They continued to dictate the tempo until Kelly tied it with just over five minutes remaining in the second. Paille skated out from behind the net, beating Nick Leddy with a neat move for a wraparound shot.
Crawford made the save, but Kelly crashed the net and knocked in the rebound to tie it at 1-1.
The Bruins nearly grabbed the lead with just over a minute remaining, after Paille picked off Duncan Keith's pass and flipped the puck to a breaking Brad Marchand. He got pulled down by Brent Seabrook as his shot hit the inside of the right post.
Boston had chances in the closing minutes, with a shot by Jagr getting deflected over the net by Keith and Johnny Boychuk's attempt from the blue line getting stopped by Crawford.
Despite the best efforts of both teams in regulation they could not be separated and it was left to Paille to decide the tie and leave the series poised at 1-1 going into game three.