NHL: Boston Bruins rally past Phoenix Coyotes to extend winning streak
The Boston Bruins notched their 12th straight win as they came from behind to defeat the Phoenix Coyotes 4-2.
Last Updated: 23/03/14 8:18am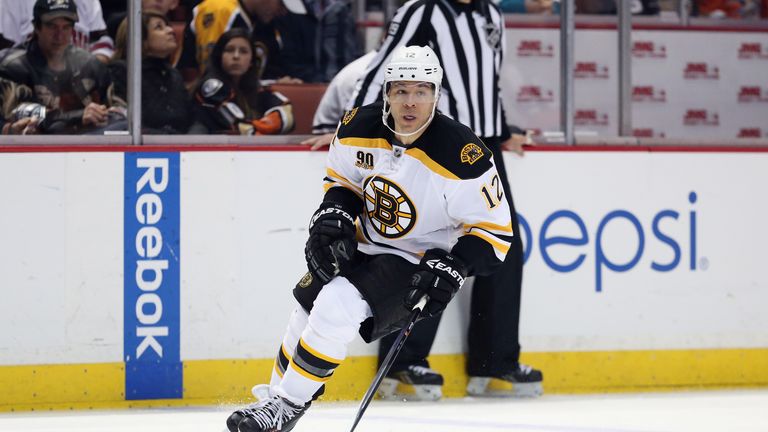 The Coyotes, who were seeking a fourth successive victory themselves, took a 2-1 lead in the second period thanks to a spectacular goal from Oliver Ekman-Larsson.
However, Boston hit back strongly with three goals in the third period, with Jarome Iginla netting a double either side of Shawn Thornton's go-ahead score with 3:18 to play.
The Bruins are now two wins short of their club-record of 14 straight set in the 1929-30 season.
They also have the most points in the NHL with 103, two more than Western Conference-leading St Louis, who clinched a play-off place thanks to Boston's win.
Despite reaching the play-offs, the Blues went down 4-1 to the Philadelphia Flyers, for whom Scott Hartnell and Brayden Schenn scored in the second period on the way to their fifth straight victory.
Jakub Voracek and Wayne Simmonds added goals, and Steve Mason made 32 saves to help Philadelphia maintain their hold on second place in the Metropolitan Division.
Meanwhile, James Neal scored a power-play goal 1:27 into overtime to lift the Pittsburgh Penguins to a 4-3 victory over the Tampa Bay Lightning.
Neal's slap shot over Anders Lindback's right shoulder capped a frantic final 15 minutes of play as the teams traded the lead three times.
Evgeni Malkin had two goals and two assists, and Sidney Crosby added a goal and two assists for the Penguins, while Steven Stamkos, Valtteri Filppula and Ondrej Palat scored for the Lightning.
The Detroit Red Wings edged the Minnesota Wild 3-2 after Gustav Nyquist scored in the third period.
Jimmy Howard made 28 saves, and Brendan Smith and David Legwand each scored on a power play for the Red Wings.
Mikko Koivu gave the Wild an early lead, on a power play, and Charlie Coyle levelled the game on a penalty shot.
Trevor Daley and Jamie Benn scored third-period goals to help the Dallas Stars rally for a 3-1 victory over the Ottawa Senators, while Jonathan Quick made 24 saves in his fifth shutout of an injury-hampered season as the Los Angeles Kings beat the Florida Panthers 4-0.
New York goalie Henrik Lundqvist made 21 saves for his Rangers record 50th NHL shutout in a 2-0 victory over the fading New Jersey Devils.
In other games, the Montreal Canadiens edged the Toronto Maple Leafs 4-3, the Carolina Hurricanes beat the Winnipeg Jets 3-2, the Calgary Flames trounced the Edmonton Oilers 8-1 and the Washington Capitals beat the San Jose Sharks for the first time since 1993, 3-2 in overtime.