NHL: Minnesota Wild and Philadelphia Flyers into play-offs; Alex Ovechkin scores 50th goal
Last Updated: 09/04/14 12:09pm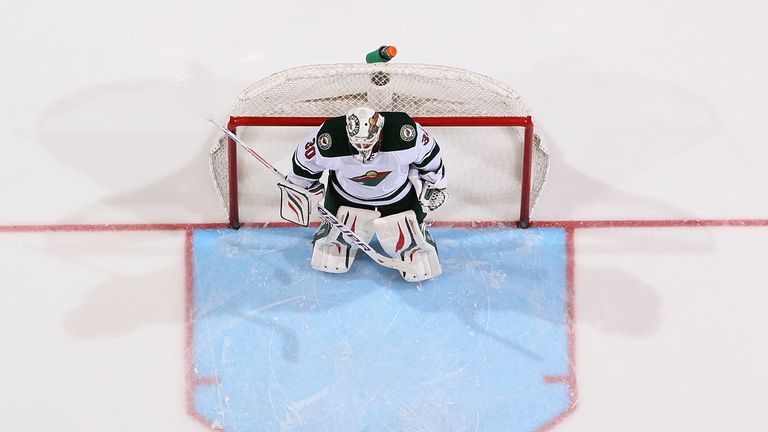 Minnesota Wild celebrated clinching a play-off spot with a 4-3 shootout victory over Boston Bruins.
Goaltender Ilya Bryzgalov denied three Bruins and Mikko Koivu scored the tie-breaker for the Wild, who found out their post-season place was secure at the end of the second period when news of Phoenix Coyotes' defeat to Columbus Blue Jackets filtered through.
Minnesota returned to the ice and forced overtime when, with Bryzgalov benched for an extra skater, Ryan Suter knocked in the tying goal with 65 seconds left.
After Bryzgalov stopped Brad Marchand's attempt to end the shootout, he pumped his arms as he skated out of the crease to celebrate with his team-mates. The Wild will be the seventh seed in the Western Conference and face the division winner with the fewest points.
Philadelphia Flyers were the other team to secure a play-off berth on Tuesday, Claude Giroux scoring twice in a 5-2 win at Florida Panthers.
Ovechkin milestone
Washington Capitals kept their post-season hopes alive, Alex Ovechkin netting his 50th goal of the season in a 4-1 success over the slumping St Louis Blues.
Tampa Bay Lightning ended Toronto Maple Leafs' play-off ambitions with a 3-0 victory despite losing goal tender Ben Bishop to an upper-body injury in the first period.
Anders Lindback came off the bench to make 25 saves and Ondrej Palat scored twice for the Lightning, who trail Montreal Canadiens by two points for second place in the Atlantic Division.
Columbus Blue Jackets' 4-3 overtime success against Phoenix was a franchise record 41st win of the season.
The Blue Jackets' winning goal was scored by Ryan Johansen, who took a stretch pass from James Wisniewski and scored on a wrist shot.
New York Rangers improved their prospects of home-ice advantage in their play-off opener by winning 4-1 at home against Carolina Hurricanes, Brad Richards scoring two powerplay goals.
Hunt over for Predators
Dallas Stars eliminated Nashville Predators from post-season contention with a 3-2 shootout victory. Tyler Seguin scored the tie-breaker.
Darren Helm struck the go-ahead goal early in the third period as Detroit Red Wings inched closer to the play-offs by winning 4-2 at Buffalo Sabres.
Colorado Avalanche beat Edmonton Oilers 4-1 to make it seven wins from eight games and set a team record for road wins in a season, improving to 25-10-3 away from Denver.
The Avalanche now have a four-point cushion over Chicago Blackhawks for second place in the Central Division and are two points up on San Jose Sharks for third in the Western Conference.
Ottawa Senators prevailed 4-1 at the New York Islanders. Jason Spezza scored twice and Ales Hemsky added an insurance goal.