Condit welcomes underdog tag
Interim UFC Welterweight champion Carlos Condit believes he can use his underdog status to his advantage against Georges St-Pierre.
Last Updated: 06/02/12 12:28pm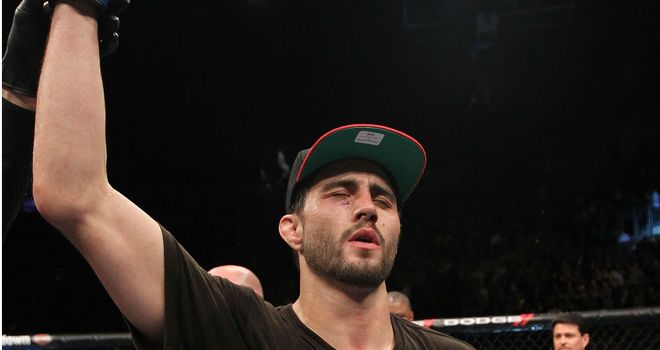 Interim UFC Welterweight champion Carlos Condit is eyeing a title unification bout against Georges St-Pierre and believes being labelled the underdog will assist him in his preparations.
Condit earned the interim belt with a hard-fought unanimous decision victory over Nick Diaz and is now looking forward to facing the Canadian, who many consider to be one of the top pound-for-pound fighters in MMA.
In the build-up to the main event at UFC 143 all the talk was about the war of words between GSP and Diaz ahead of a potential clash, and Condit believes he benefitted from being out of the limelight.
"Honestly, my whole career people have underestimated me and counted me out," he said.
"I think that I have made a pretty good run when the odds are against me and I do pretty well going against guys that are supposed to beat me and guys that I had no hope against."
GSP revealed in the build-up to Sunday's main event in Mandalay Bay that he would be cheering for Diaz to win so he could get a chance to "teach him a lesson" after the 28-year-old disrespected him in a post-fight interview.
Defeat
But Diaz's defeat has put paid to his plans and St-Pierre will now face Condit later in the year, though the newly-crowned interim champion does not feel as though he is being marginalised.
Condit added: "I don't feel like anybody dis-respected me. Nick gave me my due and Georges gave me my due.
"Georges wants to fight Nick and I don't take that personally as he has genuine beef with Nick."
With St-Pierre on the sidelines until at least November there were suggestions that Condit may take on another fight before then, but Condit insists he will wait for GSP and ruled out a re-match with Diaz.
"I didn't think that it was that close in there [against Diaz] and I am prepared to wait," he revealed.
"I have trained for six months before with opponents changing due to injuries so it makes no difference to me."