Charlie Webster's Challenge Day 7: Mission Accomplished!
Plus, don't miss your chance to win a signed Sky Bet Football League shirt!
By Charlie Webster - @CharlieCW
Last Updated: 01/02/14 6:31pm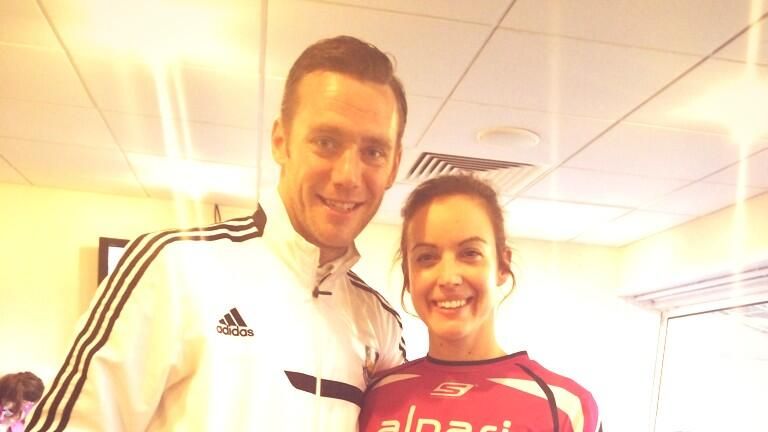 From Sunday, January 26 to Saturday, February 1, she will be running a total of 250 miles and visiting 40 football clubs across England to help raise funds for Women's Aid and encourage football clubs, players and fans to unite in the fight against domestic violence.
She will be sending us a blog direct from her extraordinary challenge each day:
Day 1 | Day 2 | Day 3 | Day 4 | Day 5 | Day 6
Day 7 - Charlton, Millwall, Arsenal, Tottenham, Leyton Orient and West Ham
The final day of my challenge started at 4.30am this morning - after going to bed at 1am - with two physios assessing my leg and discussing whether I could carry on.
There was a lot of concern because my leg was still very swollen and had lost a lot of sensation. I had about 50% feeling in it. They warned me there was a danger if I carried on running but I said, 'No, I have to carry on, I need to finish this'.
Our first club was Charlton before we went to Millwall where we met by Ken, who had got up at the crack of dawn and driven 70 miles to let us into the stadium. He was amazing. SkyBet Football League were there as well with all the signed shirts from the different clubs, which will be auctioned, in the changing room. We were in such high spirits.
Then it was on to the Emirates where there were a lot of people, including our very own Jim White, who had his tracksuit on, and Chrissie Wellington, the four-time World Ironman Champion. And there was a big group of people including my brothers, friends, runners and supporters. Everyone was joking that I was the Pied Piper with all my followers.
Next was Tottenham where some of their Ladies' team met us, which was really nice. But we had to keep the pace up because we had a strict deadline to meet. So we moved on to Leyton Orient - one of the clubs I have never been to - and on to West Ham.
For the last mile to West Ham the crowd with me were chanting, 'We love you Charlie, we do'. It was so funny. Everyone on the street was cheering and the drivers were honking their horns. It was just amazing and I started to cry. I didn't mean to, or know that I would, but it was so overwhelming. There were so many times when I thought that I could never do it or reach this stage - times of real self-doubt but I was so determined to finish it.
I entered the stadium just as West Ham scored their first goal, which was amazing. West Ham chairman David Gold and his wife greeted me and gave me some flowers before I went on to the pitch at half time and kissed the centre circle to signify my completing the challenge. I had finished!
They played a 90 second video of what I've been doing and the fans were incredible, they all stood up and got the phones out to donate. West Ham also presented me a cheque from the first-team players, which was as so kind and meant so much to me. As the second half kicked off I went inside to use their plunge pool to try to get some circulation back in my leg.
Tonight we are going to have a big celebration and I just can't believe that I have done it. It is really crazy because I thought I'd never make with so many up and downs along the way.
It has not sunk in yet and still feels like a bit of a blur. I had to be so mentally strong to do this. My right leg is completely numb and I am so exhausted. I am so dehydrated and so tired. So to actually finish is so overwhelming because I have had to be so mentally strong to keep going, and also not to get too emotional because I wouldn't have been able to do the run. Every day I have remembered why I am doing this and that, along with all the support and messages, has kept me going.
I didn't know before I set off to do this whether I could. No one has ever done it before. I am fit but I am not a marathon runner, I am a short distance runner. I hope people realise that this has by no means been easy, it is the hardest thing that I have ever done, physically and mentally. So to finish I am elated.
Everyone is too tired to count the final amount I've raise but I think I have reached my target, which was £100,000, and I think we might go over. It is amazing. We will not announce the actual total until we've done all the counting. As much as raising money, though, it is about raising awareness. Hopefully I have given a bit of a platform for people to talk about this.
Charlie x
P.S. Don't forget that Sky Bet are putting a signed shirt up for auction for each of the 25 Football League clubs I visit on my run. To find out how to bid for one, just click here!
Support Charlie
Take a look at the route I am running on www.facebook.com/charliesbigchallenge.
You can find out more about Charlie's Big Challenge here www.justgiving.com/charliesbigchallenge.
You can follow Charlie's progress on Twitter at @CharlieCW.