Shotgun misfires
UFC star Jason 'Shotgun' Young will not be changing career any time soon after a penalty shoot-out against Lee Camp
By Jonathan Witty - Twitter: @JonathanWitty
Last Updated: 19/09/12 10:11am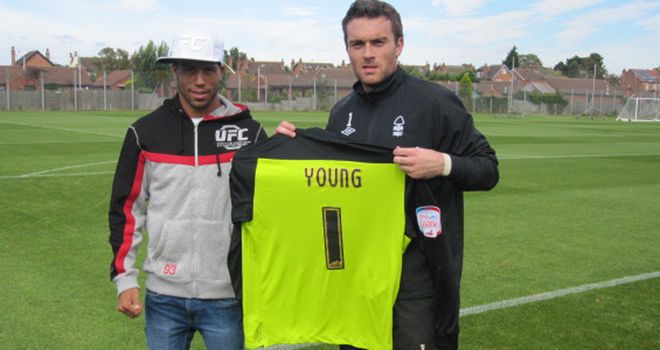 Jason 'Shotgun' Young warmed up for his bout at UFC: Nottingham with a penalty shoot-out against Nottingham Forest goalkeeper Lee Camp.
Young takes on Robbie Peralta on September 29 at the Capital FM Arena and took time out from his training regime to test his skills against the Northern Ireland international.
However, like a true Englishman, Young was only able to convert one of his four spot-kicks and reckons that he should stick to mixed martial arts (MMA).
He said: "I really like to follow football, but I didn't really play much as a kid.
"As everyone has seen today, I might be a powerful striker in the Octagon but not on the football pitch."
Young took a break to watch Forest at their training ground and believes some training methods from football can be useful for MMA fighters.
He added: "I'm sure I could definitely benefit from training with some of the guys, although our sports are quite different there are always aspects that are similar, such as agility and speed."
Striker
Known as a dangerous striker in the Octagon, UFC fan Camp recognised the power behind Young's efforts and beamed about his own passion for the emerging sport.
"Jason actually had a really powerful shot," said Camp.
"It was just the aim that was slightly off, but the strength was all there."
He continued: "To begin with I was a huge wrestling fan, but I've really started to get into the UFC recently, it is such a fast growing sport and there is so much skill involved.
"I really hope I'll be able to support Jason and see him fight on September 29."
Tickets are now available for the Nottingham card from the Capital FM Arena or UFC.com.