Different class!
Olympian Alex Danson explains why your school should sign up to Sky Sports Living for Sport this year.
Last Updated: 27/09/12 5:56pm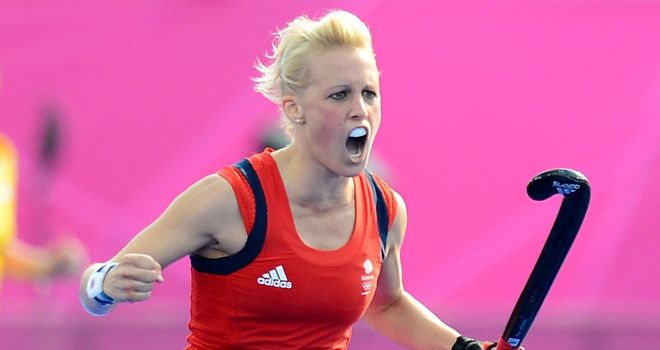 Olympian Alex Danson is going back to school - as an Athlete Mentor for Sky Sports Living for Sport.
Striker Danson won bronze at London 2012 as part of Great Britain's women's hockey team but now she wants to help others to achieve their goals again.
The 27-year-old has supported Sky Sports Living for Sport, a free UK secondary schools initiative delivered in partnership with the Youth Sport Trust, for the past five years and remains as committed as ever to the cause.
"London 2012 was one of the greatest experiences of my life," said Danson. "I feel so proud to be a part of Team GB and it is an even greater honour to have been part of a bronze medal winning team.
"As well as making my dreams come true, I feel passionately about the London 2012 motto of inspiring a generation. Sport has given me a focus, challenged me to be the best I can be and taught me so many valuable life skills on my journey."
Schools that sign up to Sky Sports Living for Sport receive a free visit from one of the initiatives 50 athlete mentors, each of whom have overcome very different challenges to achieve success. You can sign up here.
The visits are designed to inspire students and provide proof that lessons learned through sport, such as determination, respect and confidence can be applied to improving all areas of their daily lives.
Danson - who has a passion for teaching - added: "It is a privilege for me to work with young people as part of the Sky Sports Living for Sport team, sharing my experiences and hopefully playing a part in inspiring the next generation.
"London 2012 was a fantastic national event, not just in showcasing the sporting talent in Great Britain but also in highlighting what can be achieved through commitment, dedication and teamwork.
"These are values that I will be sharing with the students in the South East this year, alongside the British Athletes Commission's Six Keys to Success which include mental toughness, hunger to achieve and planning for success, and are designed to help young people develop valuable life skills that will help them in and outside of school, now and into the future.
"Sky Sports Living for Sport isn't just about discovering tomorrow's sporting champions; it's about helping produce well-rounded students who can excel in whatever career they choose. It's an honour to have the opportunity to meet students in the South East and I hope I can play a part in inspiring them to believe in themselves and reach for success."
With the help of online planning tools, resources and free T-shirts, over 2,700 schools have reaped the benefits of Sky Sports Living for Sport since it launched over nine years ago.
This year will be the biggest ever for the initiative which aims to send Athlete Mentors on 3,000 secondary school visits across the UK to provide inspiration to participating students.
Secondary schools can learn more and sign up today at www.skysports.com/livingforsport. You can also find us on twitter @SkySportsLFS and Like us on Facebook at www.facebook.com/SkySportsLivingForSport .