Sky Sports views
See what the Sky Sports experts have to say on England v India, the US Grand Prix and more...
Last Updated: 13/11/12 11:05am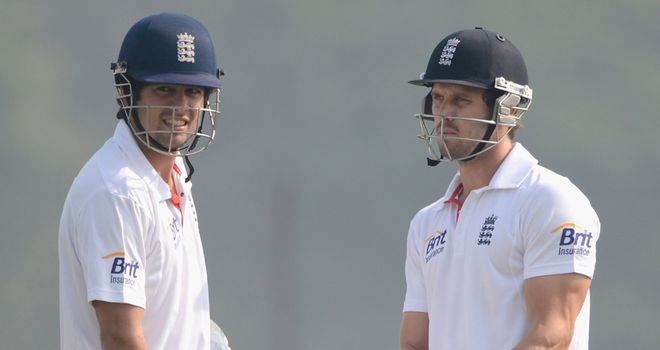 Alec Stewart on whether England can deal with India's spin threat
"I know in practice England have faced a lot of local bowlers who have bowled spin at them, but India have made full use of home advantage and produced pitches for the warm-up games that haven't spun and they haven't shown England a high-class spinner, like Harbhajan Singh (pictured), either.
"England will go in under-cooked in that respect so what they have done on the training field (will be vital). In the matches England will need a plan not just to survive against the spinners but score against them, too; if they keep the scoreboard ticking over and rotate the strike they will have a chance - but it is going to be tough."
Alan Curbishley on Wilfried Zaha's England call-up
"Roy Hodgson has only got about 30 per cent of the Premier League to look at so it is inevitable that he will start looking at the Championship, where a lot of young English players are getting their football. Zaha is doing very well and deserves his chance, but it will be a big moment and possibly a bit overwhelming as he will be meeting Premier League players.
"However, he has pace, is aggressive when he is on the ball and can create goals, while it will be a good chance for Roy to assess his personality. Zaha looks like he could make it in the Premier League and it could be interesting if someone comes in for him in January. Crystal Palace could, on one hand, lose one of their best players and derail their promotion push, but, on the other, get plenty of cash."
Allan McNish on whether this weekend's US Grand Prix will be a success
"Formula One is very purist; it is about the team that does the best job and the fastest guy and car from A to B, whereas in America they like the last-lap dash, the wheel-to-wheel aspect and the Gladiator-type of style. But I think this year's racing is just the sort of thing US fans will absorb like you wouldn't believe.
"I think the US Grand Prix can survive and do well without an American challenger, like 1978 world champion Mario Andretti (pictured), because of the American mentality; they try and build a field of dreams so that people will come. But it certainly would help things if there was a good, young American in a car at the front of the grid."
Alan Curbishley on whether Chelsea's form may fade
"When John Terry got injured against Liverpool, the Chelsea players went quiet; they got flat and lost their momentum, and in Terry and Frank Lampard (calf) they have lost two dynamic leaders, organisers on the pitch and communicators in the dressing room. Chelsea have a really tough run of games up until Christmas and could lose the Premier League over these next few months.
"They don't quite have what Man City and Man United do off the bench and with Fernando Torres not back to where we want him to be, they look a bit bare up front. A marquee signing like Radamel Falcao or Edinson Cavani would put enormous pressure on Torres but if he is not back in form by January, I think Chelsea will go out and bring that type of player in."
Ross McFarlane on Rory McIlroy's proposed switch to Nike equipment
"It will be a hugely difficult time for Rory. The first couple of months will be really important to see how that change comes through. It's like Lewis Hamilton changing cars, everything he's got in his hands will change. They can make the head shape, shaft and grip similar but the ball will be different.
"The spin rates and flight will be different, too, and so will the distance and the feel off the club head. Rory's got to find all that information very quickly and reassess how he's going to play his game with the new equipment he has. We've seen golfers over the years struggling when they change clubs - but I don't think it will take him long."
Graeme Souness on why Joe Jordan is the ideal man to manage Scotland
"The Scotland job is not for me and not something I would consider but I think an obvious candidate is Joe Jordan. He really fits the bill; everyone knows about the passion he showed as a player, he has worked and played at the highest level and he is extremely knowledgeable. He is the man."