English Netball going from strength to strength, say Sara Bayman and Tamsin Greenway
Manchester's Sara Bayman and Surrey's Tamsin Greenway on the Netball Superleague season.
By Oli Burley - @SkySportsOli
Last Updated: 06/02/13 11:05am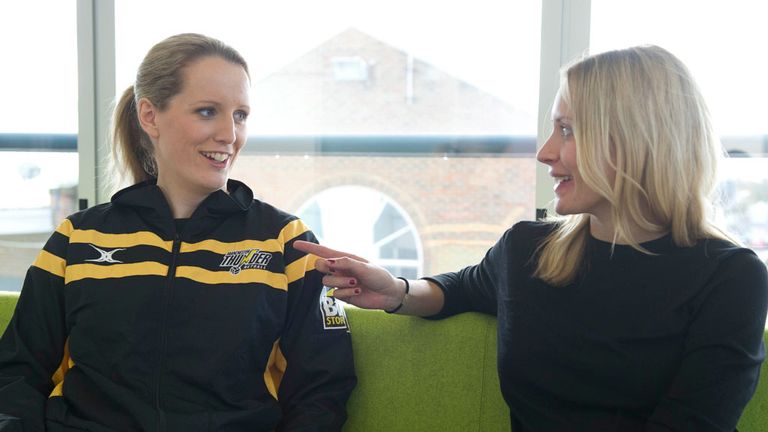 The new Netball Superleague season begins on Thursday when four-time champions Team Bath take on Celtic Dragons, live on Sky Sports.
But before the action gets underway England vice-captain Sara Bayman, who plays for defending champions Manchester Thunder, and her former international team-mate, Tamsin Greenway, who is player-coach at Surrey Storm, visited Sky Studios to discuss the sport's rise...
What makes netball so exciting to watch?
Sara: Probably the fact that it's so fast and, as the games against Australia showed, the games can be so tight. Only one or two goals might separate a team after an hour. People who have not seen netball live before tend to be impressed by the speed and athleticism of the players.
Tamsin: We get compared to basketball a lot but it's a completely different sport. You have individual athleticism in basketball but in netball the whole team has to be involved; there's a lot of off-the-ball movement and there are loads of hits. It's not the 'girlie sport' some would have you believe.
Sara: Netball is one of those sports that is unrecognisable from the grassroots level to the elite level, which is a completely different game to the one that you might have played at school. It can be a bit of a shock when you first see it because what you expect isn't really what you get.
How big a fillip was that series victory over Australia for the sport in this country?
Tamsin: Wins like that are massive because you can talk netball up as much as you want but people start talking when you beat the Aussies in any sport. Australia are No 1 for netball so it was really nice to sit and talk positively about England winning rather than making up excuses for why we are getting really close but we're not quite there yet.
Sara: You look at the Olympics and the impact that winning and doing well has on people's interest in sports like Taekwondo and gymnastics - sports that people don't necessarily follow as a rule. But as soon as Britain does well, people want to check them out and hopefully netball's no different.
Some 7,000 fans were roaring you on in that third Test at the NIA. Have you played in an atmosphere like it before?
Sara: It was incredible - it was one of the best crowds I've played in front of in this country. We've been to Australia and found crowds of 10,000 in Sydney and thought 'if only', but now we're able to match that here. There were 7,000 at Wembley and 7,000 at the NIA and, had that been bigger, more people would have come. As a player, it gives you a massive buzz when there's a crowd like that supporting you.
Hopefully that groundswell of support will filter through to club netball. Which of the eight Superleague teams have recruited well ahead of the new season?
Sara: Bath have not so much recruited as got back a lot of very good players.
Tamsin: I'd be surprised if they don't win but that doesn't mean to say that either of our teams can't beat them.
Sara: They were the biggest movers in terms of strengthening but a lot of teams have got new players in, so it's going to be interesting to see how each one lines up.
Tamsin: We've brought in eight new players, seven of whom are under 21 - so that's a big deal for us in terms of building - and we've added one import. Pamela Cookey has gone back to Bath - it was always a short-term move for her - and with me not playing this season due to pregnancy, we had a gaping hole at wing attack/goal attack. So we've recruited an Australian called Ashleigh Neal (pictured right, below), who has been playing in the ANZ for West Coast Fever out in Perth. She's a solid recruit for us.
Sara: We've got Sam Holt, who has moved over from Northumbria, and Janelle Lawson has come back from Perth. She had a big impact for us last year so we're hoping she doesn't get the 'second-season' syndrome! So no pressure...
What are your aspirations for the year ahead - both personally and for the team?
Tamsin: Reaching the play-offs is a must and then what happens after that will happen. We've been in the final in the last two years, so we'd love to do that again but we realise that we're in a building stage as well. There are lots teams with great individuals but it will be the team that comes together and plays as a team that will come out on top.
Sara: Having won it last year are aspirations are obviously high - you set a standard and you don't want to drop below it. As captain I feel a responsibility to have a strong season and to lead the team well. On top of that I've got England commitments - we go to Jamaica in March and South Africa come over later in the year, so it's turning into an 11-month season.
So I've really got to focus on where I want to improve as an individual. Defensively I was happier with how I performed in the Australia series than I have been recently but it's still something I need to work on. I want to improve my fitness too so that I can run a whole game at centre. That's going to big for me and hopefully I can get some solid work done in Superleague and transfer it to internationals. Everyone has their own targets but the main thing is that we do well as a team.
In December Sport England announced that netball would receive funding of £25.3m over the next four years - a rise of over six per cent. Are you encouraged by the state of netball in this country?
Tamsin: It's amazing. People were asking before the internationals why we were getting so much coverage but the funding we've received from Sport England has helped to grow the game massively. It's no surprise to us that hundreds of thousands of women play every week but it seems to be a massive surprise to parts of the media. People are playing, partly because England Netball have been very proactive about their 'Back to Netball' programmes. The Elite programme is clearly working well. There's just got to be this middle ground now where people who play on a casual basis find out more about the elite game. The coverage we're getting on Sky should definitely help that.
Sara: I think that a lot of the work that England Netball did with regards to grassroots work went unnoticed until Sport England gave us more funding. Then it was like 'they've got this massive increase because they've done a lot of good work'. It's fantastic to have so many women playing the sport and enjoying it; not only will we get more people coming up to the elite level but it will help to improve health and fitness in general, plus we'll hopefully get more fans.
Tamsin: I think that's why netball has been so popular. It's great from a health and fitness point of view but it's also a social game and women love to have a chat!
Sara: It's also a cheap sport to try. You can just turn up to sessions and play.
Tamsin: And it's a sport for all. You don't have to be ridiculously tall and you can choose to play in a position that suits your strengths and skills. There also has to be an element of fun and I think that schemes like 'Back to Netball' have changed people's perceptions of what they remember from school. Some women might not have enjoyed sport at school 20 or 30 years ago but now they have another pathway to try the game again in a far more social environment. I've been to loads of 'Back to Netball' sessions and the women are having a great time.
Do you think you'll ever see Netball in the Olympics?
Tamsin: Not in our time.
Sara: I don't think we'll see it in the Olympics in the next 12 years. For it to have a chance it wold have to spread to a lot more countries - plus there's a trade-off between trying to get it in the Olympics and setting up a professional league in this country.
Tamsin: I would definitely prefer to see a professional league. The Olympics come around every four years and they're great, don't get me wrong, but would it do much for the long-term participation levels in our sport in this country? I don't think so. Netball would never grab the headlines in the Olympics in the same way that the athletes, swimmers or gymnasts do. I'd rather have a semi-pro league - I'd opt for that every day of the week.
Do you look at the advances made by women's teams in other sports such as cricket and rugby and take encouragement from that?
Sara: I think so. Rugby and cricket have the advantage of being able to link to the men's game and the women have the chance of showcasing what they do at Twickenham or Lord's. We've seen women's matches act as a curtain-raiser for other events, but they've still got there on merit by virtue of the athletes they've got within those teams and the performances they've put out there. They are an inspiration in terms of if you get the results and you work hard and get to a level where people are interested in what you are doing, then you will get increased exposure.
Tamsin: But I think that exposure comes with a disadvantage as well because unfortunately they get the comparison of men's rugby to women's rugby, of men's cricket to women's cricket, when actually they should be regarded as completely different. Female athletes are completely different to male athletes; they play a completely different style of sport. So there are both pros and cons to look at.
We know a lot of the women around playing international sport and we completely respect them. They'd love to see their leagues and international game grow. It can only be healthy for any international sport to have competitive countries all over the world, not just two or three. Most female sports are growing; any positive, talented role-models are good for girls. So full respect to all the other sports because we're all coming up against the same battles.
Watch Team Bath take on Celtic Dragons in the opening match of the Netball Superleague season on Thursday, at 7.30pm on Sky Sports 4 HD.