Going out on top
After Ray Lewis' Super Bowl swansong, we take a look back at other athletes who retired on a high note.
By Graeme Mair - Twitter: @gmair 1
Last Updated: 08/02/13 5:03pm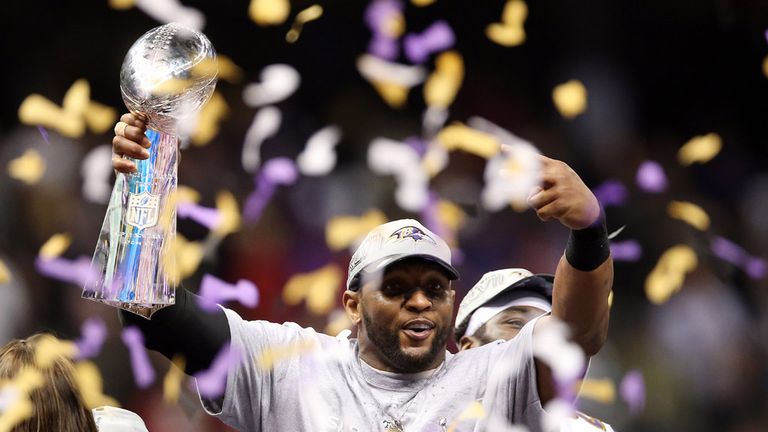 Baltimore Ravens linebacker Ray Lewis brought the curtain down on his 17-season NFL career with victory over the San Francisco 49ers in Super Bowl XLVII.
Lewis' swansong provided the perfect ending, ensuring the final memory Ravens fans will have is of him lifting the Vince Lombardi trophy.
We've had a trawl through the archives and picked out some other athletes who went out in similar style.
Michael Phelps
Phelps called time after winning four gold and two silver medals at the London 2012 Olympic Games.
That haul took his tally to a record 18 Olympic golds in a career that began back in earnest with a world record in the 200 metres butterfly as a 15-year-old in 2001.
The Baltimore swimmer's finest hour came with a perfect eight golds - another record - at the 2008 Beijing Games.
He signed off in style in his final race, swimming the butterfly leg in the United States' 4x100m medley relay victory in London.
Pete Sampras
Sampras was the dominant force in men's tennis during the mid and late 1990s, spending 286 weeks ranked as world number one.
The big-serving American made Wimbledon his personal fiefdom for much of the decade, winning the title seven times in eight years from 1993 among a total of 14 grand slams.
After turning 30, his game appeared to be in terminal decline, the low point coming when he was beaten by world number 145 George Bastl in the second round of Wimbledon in 2002.
But he roused himself one last time later the same year at the US Open, seeing off his great rival Andre Agassi in the final - his last act as a professional.
John Elway
Elway failed to win the Super Bowl during his first 14 years in the NFL - all of which were spent as quarterback of the Denver Broncos after being drafted first overall out of Stanford.
On three occasions Elway's Broncos fell short in the big game, defeats that seemed destined to define his career.
But the arrival of Mike Shanahan as head coach proved the catalyst for the Broncos to claim back-to-back Super Bowls victories in the 1997 and 1998 seasons.
After the second of those - a 34-19 win over the Atlanta Falcons - Elway, by now 38, picked up the MVP award and then walked away from the sport.
Tony Adams
The central figure in Arsenal's "famous five" defence, Adams made 669 appearances for the North London club in a turbulent 19-year career.
He won 10 major trophies, including four league titles, but also battled alcoholism and spent 57 days in jail for drink driving after crashing his car into a wall in 1990.
After giving up drinking, Adams played for England at the 1998 World Cup and flourished under Arsene Wenger's management at Highbury.
He twice captained Arsenal to the Premier League and FA Cup double, hanging up his boots after the second of those in 2001-02, which was clinched with a win over Manchester United at Old Trafford.
Annika Sorenstam
Sorenstam was world number one in the women's golf rankings when she decided to retire in 2008.
The Swede collected 10 majors among 90 professional victories and was the first woman to take part in a PGA Tour event for 58 years when she accepted an invite to the Bank of America Colonial tournament in 2003.
Sorenstam announced in May 2008 she was planning to retire at the end of the year and made good on that promise despite her continued good form - she won four tournaments in her final season.
She has since started a family and pursued various business ventures while resisting the lure of a comeback although, at 42, there is still time...
Joe Calzaghe
Boxing is littered with great champions who tarnished their legacy by carrying on for too long. Calzaghe bucked that trend.
The Welsh super-middleweight retired in 2008 after outpointing Roy Jones Jr - an opposite example of a great champion who did not know when to quit - at Madison Square Garden to take his professional record to 46-0.
Calzaghe held the WBO version of the super-middleweight world title for more than a decade and unified the division with his points win over Mikkel Kessler in 2007.
He gave up the titles in order to move up in weight and take on Bernard Hopkins and Jones Jr in his final two fights.
Glenn McGrath
In stark contrast to when he had a bat in his hand, McGrath's timing was perfect when it came to retiring from international cricket.
The New South Welshman led Australia's attack with distinction for 15 years, claiming 563 Test and 381 ODI wickets along the way.
His Test career came to an end on his home ground in Sydney in 2007 as Australia completed a 5-0 Ashes whitewash of England.
McGrath continued in ODIs for another five months, just enough time for him to help Australia lift the World Cup for the third time in a row.
Darren Lockyer
Lockyer brought the curtain down on one of the great rugby league careers by scoring a try on the last play of Australia's 2011 Four Nations final victory over England in Leeds.
The moment was only slightly marred when he missed the subsequent conversion from in front of the posts.
Lockyer was a serial winner throughout his career, including four NRL Grand Finals for the Brisbane Broncos and seven State of Origins for Queensland.
He moved from full-back to stand-off later in his career and was part of the Kangaroos' World Cup-winning team in 2008.
Michael Johnson
Johnson's arched back running style was a familiar sight during the 1990s when he was regularly to be found topping the podium at Olympic and world championships.
He became the first man in Olympic history to do the 200-400 metres double at the Atlanta Games in 1996.
Johnson's 400m world record of 43.18 seconds, set at the 1999 world championships in Seville, is still the benchmark.
The American retired after successfully defending his 400m Olympic title in Sydney in 2000.
Alain Prost
Prost walked away from F1 for good after winning his fourth world title at the age of 38 in 1993.
The Frenchman had returned to the sport with Williams after a one-year sabbatical and dominated the championship, winning seven of the season's first 10 grands prix.
Helped by a car that was the clear class of the grid, he sealed the title in Portugal with two races to spare.
And that was enough for Prost, who was replaced at Williams by his great rival Ayrton Senna.