WWE stalwart Jim Ross talks broadcasting basics and Jerry Lawler
WWE stalwart Jim Ross explains the keys to commentary and his bond with Jerry Lawler.
Last Updated: 22/08/13 4:15pm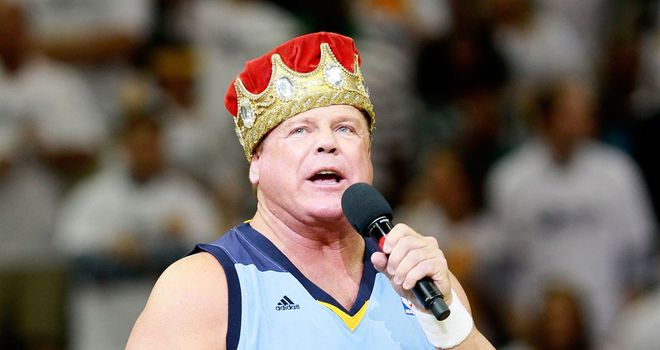 "Good Ol' JR" was a regular at the announce desk between the early 1990s and the late 2000s and was famed for quotes such as "It's a slobberknocker!" and "Business is about to pick up".
Ross makes just sporadic appearances in the commentary booth these days, but in a recent chat with skysports.com, he revealed what he believes to be the key traits that an announcer must possess.
The WWE legend also discussed his partnership with long-time broadcast colleague Jerry "The King" Lawler and why the duo formed such a rapport at ringside and beyond...
"To be a good announcer, I think you have to be diligent in your preparation and have a great work ethic.
"I was raised in a rural farm environment as an only child and I had responsibilities as a young kid for taking care of the animals and doing my 'chores'.
"So work ethic was instilled in me by my mother and father, who not only had a 160-acre farm but also had day jobs and I have carried that into announcing.
"However, I think you also have to be a fan of the genre - you can't be a football broadcaster if you don't like football - but you must put the product first and speak to your audience, not down to your audience, as well.
"The wrestlers are the musicians of our genre but it is incumbent upon a broadcaster to provide the lyrics and I like to think I did that for some very talented guys during my days in the booth.
"And, of course, I really enjoyed my broadcast partnership with Jerry "The King" Lawler.
"We were seemingly blessed with an immediate natural chemistry and perhaps that is because we both come from the southern part of the United States.
"We were both long-time fans of professional wrestling before we worked together - he took the route of becoming a wrestler, while I took the route of becoming a broadcaster.
"And as we were born in the same generation - he is only a couple of years older than I am - we had lots of similar likes away from wrestling, too, including sports, food and music.
"We have had a lot of fun and laughs travelling together but we also lived through a lot of things that haunted us - including the death of my mother and father and the death of Jerry's mother - and a lot of social changes.
"We forged a bond outside of the business and that allowed us to click at ringside."