Night of Champions: Read our history of the WWE belts up for grabs
Plenty of WWE titles will be defended on Sunday night. Click here to check out the belts' histories...
Last Updated: 12/09/13 2:18pm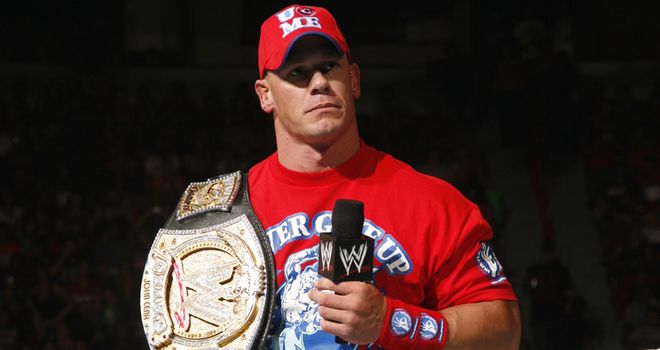 Each match at the Night of the Champions pay-per-view - with the exception of CM Punk's elimination handicap contest against Paul Heyman and Curtis Axel - will be for possession of a title.
You can see whether champions retain or challengers prosper by ordering the event on Sky Sports Box Office, either live, or in the week that follows the high-octane show in Detroit, Michigan.
But before the action unfurls inside the Motor City, check out skysports.com's history of the straps that will be defended, and profiles of the men and women that will be fighting for them...
WWE Championship
Established: 1963
Inaugural champion: Buddy Rogers
Longest reign: Bruno Sammartino (2,803 days)
Most reigns: John Cena (11)
Current champion: Randy Orton secured his seventh WWE Title at SummerSlam when he cashed in his Money in the Bank contract on Daniel Bryan, moments after the submission specialist had won it from John Cena. The Viper has also claimed the World Heavyweight Championship on three occasions, and the Intercontinental Title once, while he also outlasted 29 of his peers to prevail in the 2009 Royal Rumble in the Joe Louis Arena - the site of this year's Night of Champions.
Night of Champions challenger: Daniel Bryan hushed all the naysayers in Los Angeles - albeit briefly - by seizing the most prestigious strap in sports entertainment, but the former Ring of Honor grappler has proven his credentials before, spending time as World Heavyweight and United States Champion. In addition, the bearded wrestler formed a successful, title-winning tag team with The Devil's Favourite Demon, Kane, until they parted ways earlier this year.
World Heavyweight Championship
Established: 2002
Inaugural champion: Triple H
Longest reign: Batista (282 days)
Most reigns: Edge (7)
Current champion: Alberto Del Rio regained the World Heavyweight Title through nefarious means at June's Payback event, kicking Dolph Ziggler in the head repeatedly until he was able to pin the stricken Showoff. The Mexican Aristocrat overcame Ziggler again at Money in the Bank following a distraction from the bleach blonde's then-girlfriend AJ Lee, before vanquishing Christian at the end of a see-saw tussle at SummerSlam, courtesy of his Cross Armbreaker.
Night of Champions challenger: The legendary Rob Van Dam returned to WWE at Money in the Bank in the ECW heartland of Philadelphia, and although he was unable to clinch the briefcase in the City of Brotherly Love, the Whole Dam Show has gone from strength to strength. Following wins over the likes of Chris Jericho and Damien Sandow, RVD bested Del Rio in a singles clash on Raw to earn himself a match for the Essence of Excellence's gold at Night of Champions.
WWE Tag Team Championship
Established: 2002
Inaugural champions: Kurt Angle and Chris Benoit
Longest reign: Paul London and Brian Kendrick (331 days)
Most reigns: MNM (3); Heath Slater and Justin Gabriel (3)
Current champions: Seth Rollins and Roman Reigns, along with Shield stable-mate Dean Ambrose, started the WWE Universe when they emerged from the shadows to cost Ryback the WWE Championship at Survivor Series last November. Reigns and Ambrose have continued to cause carnage since, quelling luminaries such as Cena, Sheamus and Big Show, and ripped the WWE Tag Team Titles from Team Hell No at the Extreme Rules extravaganza in Missouri in May.
Night of Champions challengers: Rollins and Reigns do not yet know who they will combat in Detroit, with a number-one contender's Tag Team Turmoil encounter taking place on the Night of Champions pre-show. The Real Americans, Jack Swagger and Antonio Cesaro; The Usos; Tons of Funk; Heath Slater and Jinder Mahal from 3MB; and The Prime-Time Players will compete in the duel, with the victors facing the black-clad renegades later in the evening.
Divas Championship
Established: 2008
Inaugural champion: Michelle McCool
Longest reign: Maryse (216 days)
Most reigns: Eve Torres (3)
Current champion: AJ Lee plucked the butterfly-emblazoned belt from onetime best friend Kaitlyn in June after locking in her Black Widow submission manoeuvre on the Hybrid Diva - and has since stated that none of the females in her division are up to her high standards. Lee, however, has spent most of her WWE tenure managing her string of boyfriends, a list that includes Bryan, Cena, Ziggler, Kane and CM Punk, and also enjoyed a stint as General Manager of Monday Night Raw.
Night of Champions challengers: Natalya, Brie Bella and Naomi will be given the chance to become Divas Champion this weekend when they face Lee in a Fatal Four-Way. Natalya has the experience after following in the footsteps of Bret Hart, Chris Jericho and Edge in graduating from the infamous Hart Dungeon, Naomi has the athleticism from her spell as a cheerleader for NBA franchise Orlando Magic, while Brie can always call upon the services of her twin sister, Nikki.
Night of Champions booking details
WWE Night of Champions will be shown on Sky Sports Box Office (channel 743) and Sky Sports HD Box Office (channel 752) from 1am on Sunday, September 15 (Monday morning).
WWE Night of Champions will be repeated on Sky Sports Box Office (channel 743) but NOT on Sky Sports HD Box Office (channel 752) between 9am on Monday, September 16 and 3pm on Saturday, September 21.
The event is priced at £14.95 for UK customers, €21.95 for viewers in the Republic of Ireland.
You can order WWE Night of Champions from Friday, September 6 by pressing the Box Office button on your remote. Select 'sports & events' and follow the on-screen instructions.
Viewers are able to call 08442 410 888 to book WWE Night of Champions from Friday, September 6. (There may be an additional charge for telephone bookings).
You can also book WWE Night of Champions online from Friday, September 6 by visiting this link: https://my.sky.com/orderboxoffice/
Cable customers should contact their local cable operator.