Survivor Series: Read our report of the 2012 event in Indianapolis
Forgot what transpired at last year's Survivor Series? Then let skysports.com jog your memory...
Last Updated: 25/11/13 10:03am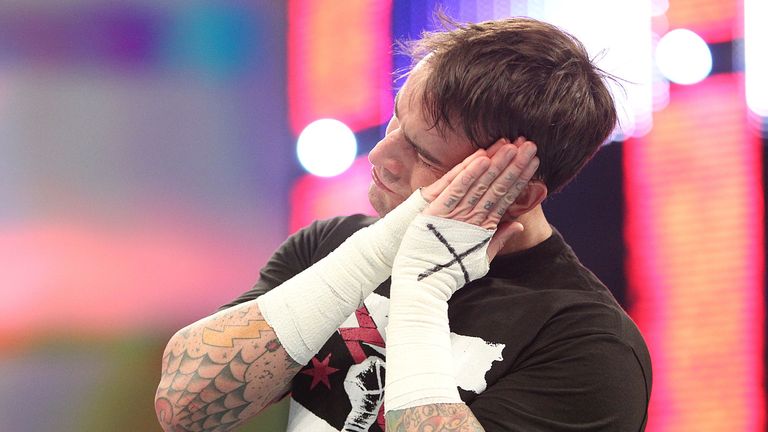 The show promises to be thrill-a-minute stuff - but will it be as exciting as last year's event, where Shield stars Dean Ambrose, Seth Rollins and Roman Reigns made an eye-catching debut?
If your memory of Survivor Series 2012 - which was held in Indianapolis - is sketchy, then read below to see what we made of proceedings in the pay-per-view's immediate aftermath...
Published November 19, 2012:
CM Punk retained the WWE Championship in a Triple Threat Match at Survivor Series but his defence was fraught with controversy - again.
The Second City Saint kept his gold intact during a bout with Ryback at Hell in a Cell in October after interference from referee Brad Maddox, and he was assisted once more on Sunday night by NXT wrestlers Dean Ambrose, Seth Rollins and Roman Reigns.
Punk and 12-time world champion Cena were laying stricken in the ring after being Shell Shocked by Ryback, but just as Big Hungry seemed set to snare his maiden WWE strap, a trio of saboteurs entered the fray.
Ambrose, Rollins and Reigns sent Ryback crashing through the announce table, allowing Punk to pin Cena and extend his reign with the title that he scooped at the 2011 edition of Survivor Series.
Big Show remains the World Heavyweight Champion, despite losing to Sheamus via disqualification at the end of an epic brawl inside Bankers Life Fieldhouse.
The World's Largest Athlete pinned his Irish opponent, but the decision was swiftly reversed following the giant's tactic of pushing official, Scott Armstrong, in the way of a vicious Brogue Kick earlier in the contest.
Dolph Ziggler, meanwhile, was the sole survivor of his squad's five-on-five elimination tag-team match against Team Foley; the Show Off evaded a punt from Randy Orton to level the Viper with a skull-shattering Superkick and secure the match-deciding cover.
David Otunga was named as a late replacement for Ziggler's brood after injury prevented Cody Rhodes from competing, but the Harvard graduate was pinned, along with team-mates Damien Sandow, Wade Barrett and Alberto Del Rio, while Foley's charges Kane, Daniel, Bryan, Kofi Kingston and the Miz also saw their nights end early.
Rey Mysterio, Sin Cara, Tyson Kidd and Justin Gabriel led Team Clay to glory in the second traditional Survivor Series tag duel of the evening; the high-flying foursome survived the early loss of skipper Brodus Clay to see off the party of Tensai, The Prime Time Players and Primo and Epico.
Elsewhere, Antonio Cesaro bested R-Truth to keep hold of the United States Championship, while Kaitlyn, the victim of a pre-match attack by Aksana, failed to capture the Divas Title, despite putting in a plucky effort against Eve.
Survivor Series 2013 booking details
WWE Survivor Series will be repeated on Sky Sports Box Office (channel 743) BUT NOT Sky Sports HD Box Office (channel 752) between 9am, Monday, November 25 and 9pm, Saturday, November 30. Repeats showing will last for three hours.
The event is priced at £14.95 for UK customers, €21.95 for customers in the Republic of Ireland.
You can order WWE Survivor Series by pressing the Box Office button on your remote. Select 'sports & events' and follow the on-screen instructions.
Viewers can call 08442 410 888 to book WWE Survivor Series from Friday, November 15. (There may be an additional charge for telephone bookings).
You can also book WWE Survivor Series online from Monday, November 18 by visiting this link: https://my.sky.com/orderboxoffice/
Cable customers should contact their local cable operator.