Game Changers Quiz: test your sporting knowledge with our New Year's game
How much do you remember about our interviews and masterclasses from 2013?
Last Updated: 04/01/14 2:49pm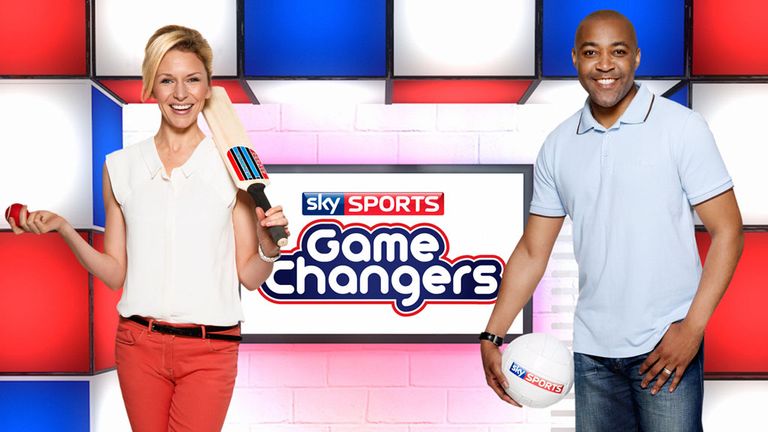 It has been a memorable start to the show, with plenty of great guests and even more sporting tips, but how much do you remember?
Test your knowledge by answering the 15 questions below. If you need some help, we've provided multiple-choice answers. Once you've done your best, click on the link at the bottom of the page for the answers.
Good luck! The first five questions will test your...
Show Knowledge
1. Which London 2012 Olympic Medallist joined us for the very first episode of Game Changers?
a) Jessica Ennis
b) Louis Smith
c) Mo Farah
d) Sir Chris Hoy
2. Buster and Prisca attended the 2013 Sportswomen of the Year Awards - but who won?
a) Christine Ohuruogu
b) Charlotte Dujardin
c) Becky James
d) Non Stanford
3. Josh trained with Sky Sports Living for Sport to climb which mountain?
a) Ben Nevis
b) Everest
c) Kilimanjaro
d) Mont Blanc
4. What football team does Darren support?
a) Manchester City
b) Everton
c) Manchester United
d) Tottenham
5. Which sport would Di love to master?
a) Show jumping
b) Triathlon
c) Golf
d) Skiing
Interviews
6. What's the first thing Jenson Button does in the morning?
a) Bring in the milk
b) Check his cars are ok
c) Read the newspaper
d) Drink half a pint of water
7. What is Tour de France winner Chris Froome's favourite sport after cycling?
a) Rugby
b) Ice Skating
c) Football
d) Moto GP
8. How far can Ashes winner Heather Knight hit a cricket ball?
a) 50-60m
b) 60-70m
c) 70-80m
d) 80-90m
9. What sport did the WWE Divas The Bella Twins play competitively before turning to wrestling?
a) Baseball
b) Basketball
c) Soccer
d) NFL
10. What special gift did Commonwealth gold medal-winning heptathlete Louise Hazel bring into the studio?
a) A hurdle
b) A shot putt
c) Her favourite spikes
d) A javelin
Challenges and Masterclasses
11. Who knocked Di off the top of the Change Your Aim leaderboard?
a) Handles from Harlem Globetrotters
b) Louise Hazel
c) Mark Foster
d) Anthony Clark
12. What is David Beckham's top tip for crossing the ball?
a) Control
b) Always finish the ball
c) Accuracy
d) Pace
13. What grip does Louis Smith use when he plays golf?
a) Interlocking
b) Baseball
c) Cricket
d) Tennis
14. According to the Laws of Cricket, which of the following statements about the Leg Before Wicket (LBW) mode of dismissal is untrue?
a) A batsman can be out if the ball pitches outside leg-stump
b) A batsman can be out even if the ball doesn't bounce
c) A batsman can be out if the ball would have gone on to hit the stumps
d) A batsman isn't out if he hits the ball before it hits his pads
15. According to Andy Murray, what is the most important thing about the serve in tennis?
a) Racquet Speed
b) Accuracy
c) The ball toss
d) Leg spring
Right - are you happy with your answers? Then click here to find out how many you've got right! And remember, this quiz is just for fun!