Charlie Webster's Challenge Day 1: Rain and mud in Burton and Derby
Charlie Webster blogs on how her Big Challenge got off to the toughest start in rain and mud.
By Charlie Webster - @CharlieCW
Last Updated: 27/01/14 9:59am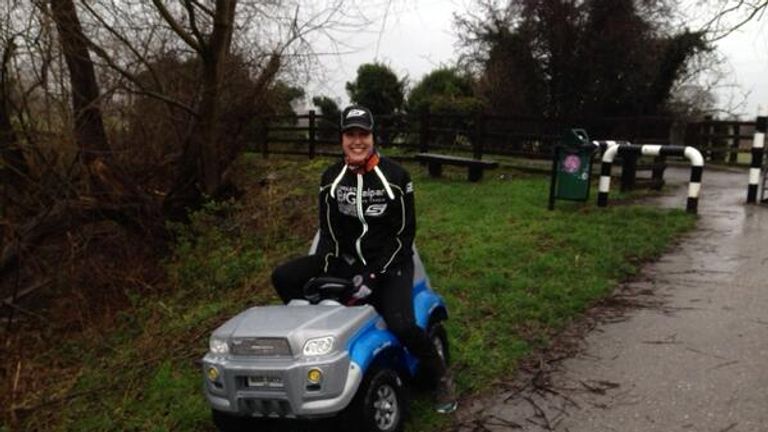 From Sunday January 26 to Saturday February 1, she will be running a total of 250 miles and visiting 40 football clubs across England to help raise funds for Women's Aid and encourage football clubs, players and fans to unite in the fight against domestic violence.
She will be sending us a blog direct from her extraordinary challenge each day, so you can keep up to date with her progress right here.
Day 1 - Burton Albion, Derby County, Notts County and Nottingham Forest
My big challenge started off at Burton Albion - and the weather was the worst it could possibly have been.
It was absolutely pouring with rain, really tipping it down, and the route from Burton Albion to Derby County was on a towpath, which was completely flooded. The most miserable conditions ever!
We were running in the mud and I was slipping and sliding along the towpath the whole way. Basically we did a half-marathon in muddy fields and sludge for the whole time.
I have quite a bit of pain in my foot and right knee because I'm not used to running in those conditions. I was having to stabilise the whole way because it was like running through a swimming pool and I couldn't get any form. It was ridiculous!
The pain is not great because I've only just started, but that's the only thing that's bothering me at the moment.
When we got to Pride Park I was really cold, but Derby County's mascot Rammy was there to meet us and took me onto the pitch and lifted me up in the air.
Rammy also came out and ran the first mile out of Derby with me, which was great because we had loads of cars beeping at us and we were waving as a procession of vehicles came past us.
As I speak, we are in a Derbyshire village in the middle of nowhere and this is one of the hardest sections because it's basically 21 miles of nothing before I get to Notts County.
There's nothing here to keep me entertained, so I keep looking at road signs. That's probably a bad idea because it keeps telling me how far I've got to go!
It's been a hard start so please click on the links below and show your support!
Thank you,
Charlie x
Support Charlie
Take a look at the route I am running on www.facebook.com/charliesbigchallenge.
You can find out more about Charlie's Big Challenge here www.justgiving.com/charliesbigchallenge.
You can follow Charlie's progress on Twitter at @CharlieCW.