Sky Sports Living for Sport Awards: Student of the Year Finalists
Bethan Gill, Frankie Howarth and Rhiannon Bracher are finalists in this year's Student of the Year awards.
Last Updated: 20/05/14 5:53pm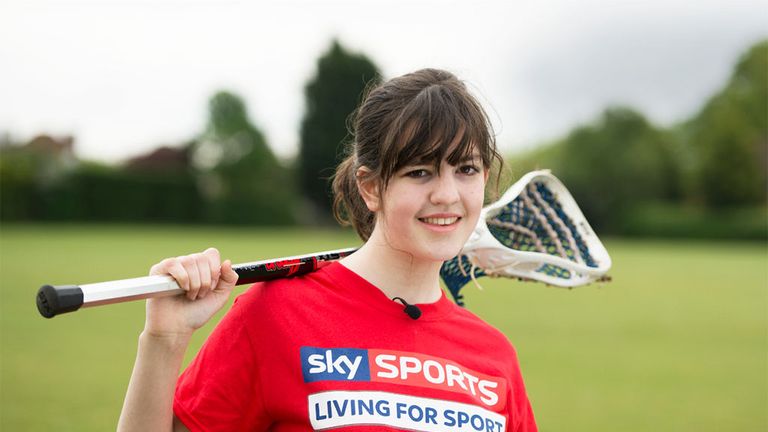 Bethan Gill, Samuel Cody Specialist Sports College, Hants
Bethan was a selective mute at Primary School, meaning extreme anxiety led to her being unable to speak in specific situations or to specific people, which also impacted on her academic progress and led to poor results in core subjects.
This difficult beginning makes Bethan's journey all the more remarkable; her story is an inspirational one spanning almost five years on one of the longest-running Sky Sports Living for Sport projects in the country.
Bethan had always been an extremely helpful student who often placed the needs of others in front of her own and, through her participation in the project, she was able to develop this into a real strength, going on to become an outstanding coach. She currently coaches children with special needs at trampolining and is taking a Level One coaching course.
Bethan's communication skills and self-confidence have now grown to such an extent that she now acts as a sports leader, a house captain and sports ambassador for her school, having gained the respect and admiration of all her peers. It is her personal development however that has been the most significant - helping her to realise that she has a voice.
Bethan's next step is to join the Military Preparation College at Farnborough to take a BTEC level 1 in Sport and Active Leisure; a real indication of just how much her confidence has grown.
Twice in a row she has captained Rushmoor District's athletics squad to county championships at the Parallel Games, while in the classroom she has become one of the first students at the school to undertake PE at GCSE level.
When Bethan says she would never be the person she is now without Sky Sports Living for Sport, she really means it.
Frankie Howarth, Rastrick High School, West Yorkshire
Frankie was one of a number of students selected to participate in a Sky Sports Living for Sport 'Aussie Rules' football project, designed to improve behaviour, attendance and attainment in English. The innovative choice of sport was carefully designed to ensure that students would all enjoy taking part and that none would have prior experience, giving all a level playing field.
An under-achieving pupil with significant behavioural problems linked to low self-esteem and low self-confidence, Frankie had struggled to engage fully in school life when he started the project. During his time at school, he had more than 100 different behaviour incidents logged against him as well as a number of fixed-term exclusions and internal isolations.
Over the course of the project, the change in Frankie began to shine through, as the exhilaration of taking part in Aussie Rules and playing as part of a team helped him focus, let go of his inhibitions and engage with his team mates. Athlete Mentor Paul Broadbent proved to be a source of real inspiration, and it quickly became clear that Paul's sporting success together with the challenges he faced himself at school resonated deeply with Frankie.
As a result of taking part in the project, Frankie felt significantly better about being at school and his attendance level rose from being at risk of persistent absenteeism to a situation where his attendance was no longer an issue.
Frankie was now in a position where he was enthusiastically leading some of the taster sessions and he even spoke in front of 60 students - something he would never have attempted before Sky Sports Living for Sport came into his life.
Writing an information booklet for a younger audience and then planning and deliver Aussie Rules taster sessions for Primary Schools gave him new confidence in class too.
Rhiannon Bracher, The Sele School, Hertfordshire
When she first arrived at The Sele, Rhiannon, found it big challenge to adjust to her new Secondary school. She suffered from low self-confidence and found it difficult to develop relationships.
A big breakthrough came, however, when teachers introduced an innovative Sky Sports Living for Sport lacrosse project that saw her grow in confidence and develop outstanding leadership skills.
With the encouragement of Athlete Mentors Jeanette Kwakye and Mike Mullen, Rhiannon quickly flourished. She soon found that the skills she developed from the project, and the self-belief that her Athlete Mentors had instilled in her, helped her to put her nerves to one side and to focus on using her skills to help others. Rhiannon even went on to proactively approach a Welsh international lacrosse player to develop her coaching techniques.
Having engaged Athlete Mentor Mike's assistance to organise a lacrosse festival - to which parents were invited - she was then chosen by the English Lacrosse Association to help with the National Schools Pop Tournament, and was given responsibility for scoring for the day. This was a big moment for Rhiannon, who visibly grew in confidence as she relished the responsibility and discovered her inner leader.
Now in her final year at The Sele School, Rhiannon's next step is to take up a place at Shuttleworth College to study Animal Welfare having already received an unconditional offer. It is a real indication of just how much her confidence, and subsequently her grades, has improved - and a fine example of how Sky Sports Living For Sport can help change young lives.
Watch Game Changers with David Beckham and Jessica Ennis-Hill live on Sky Sports 1 on Tuesday from 4.30pm.
To find out more about Sky Sports Living for Sport - a free secondary schools initiative that uses sport stars and sport skills to boost confidence, change behaviours, increase attainment and improve life skills - click here.