WWE Payback: Daniel Bryan still WWE World Heavyweight Champion after Brie Bella quits
Bad News Barrett, Sheamus and Paige also retain straps in Chicago
Last Updated: 10/11/15 4:15pm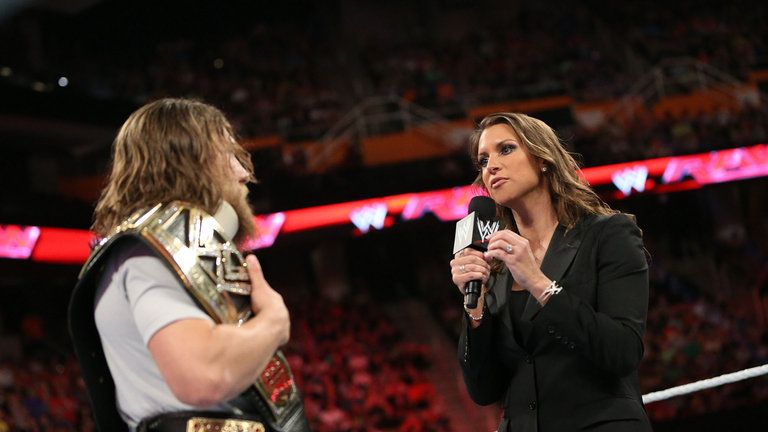 Bad News Barrett, Sheamus and Paige left WWE Payback with their titles intact - and so, perhaps surprisingly, did Daniel Bryan.
Intercontinental Champion Barrett edged Rob Van Dam, United States Titlist Sheamus overcame Cesaro, and Divas belt holder Paige downed Alicia Fox when WWE hit Chicago's Allstate Arena.
But WWE World Heavyweight Champion Bryan was the most shocking retainer of a strap, with the bearded grappler, who has recently undergone neck surgery, seemingly in an impossible position before Payback rolled onto air.
Bryan was told by Stephanie McMahon that if he did not relinquish the garland he poached from Randy Orton at WrestleMania XXX she would promptly fire his wife, Brie Bella.
But as McMahon pressed him for an answer, Bella grabbed the microphone and quit the company, leaving her on the unemployment line but ensuring her husband could maintain his place as WWE's standard bearer.
Bella was not finished, though, and before she and Bryan launched into a massive "Yes" chant with the WWE Universe, the former Divas Champion slapped McMahon across the chops, causing The Billion Dollar Princess to rush out of the arena.
Dizziness
Barrett had to go through an arduous match to preserve his gold, pinning Van Dam after countering a split-legged moonsault with the Bad News Bull Hammer, while Sheamus kept his dizziness under control to roll-up Cesaro after he had fallen victim to the Swiss' Swing.
Paige, however, recorded a submission victory over Fox, administering the Scorpion Lock to earn the spoils and send her rival into a post-match tantrum - but the eccentric Floridian ended the night in better shape than Evolution.
Triple H, Batista and Randy Orton were obliterated by The Shield in a pulsating No Holds Barred Elimination Match, with the Hounds of Justice's muscle, Roman Reigns, delivering the ultimate blow.
The Game and his cronies began the dust-up in strong fashion, handing out particular punishment to Reigns by thundering him into the announce desk with a triple powerbomb and then battering his back with a multitude of kendo stick shots.
But when the black-clad renegades' resident daredevil, Seth Rollins, leapt from the entrance ramp set and onto all three members of Evolution, sending each man tumbling off their feet, the dynamics altered.
Pinned
Rollins' aerial assault allowed The Shield to seize momentum, with the up-and-comers eliminating Batista and Orton in quick succession, before The Viper presented Triple H with a sledgehammer.
The Cerebral Assassin made slight headway, cracking Ambrose with the weapon, but he was soon clobbered by a diving Rollins and then pinned in the aftermath of one of Reigns' spears.
Elsewhere, John Cena toppled Bray Wyatt in a Last Man Standing Match - plonking the Eater of Worlds in an equipment case and then placing another one on top of him - and Rusev won a big-man battle against former Intercontinental Champion Big E.
Kofi Kingston was bludgeoned by Kane, rendering his scheduled bout against Bo Dallas a no-contest, while Cody Rhodes ditched his brother Goldust after the duo was defeated by RybAxel.
Plus, on the Payback pre-show, Hornswoggle was shaved bald following his loss to Los Matadores mascot El Torito in a mask versus hair battle, a month after he was conquered by the bull in a WeeLC tussle at Extreme Rules.
Watch the repeat of WWE Payback, from 9pm on Monday on Sky Sports 3.