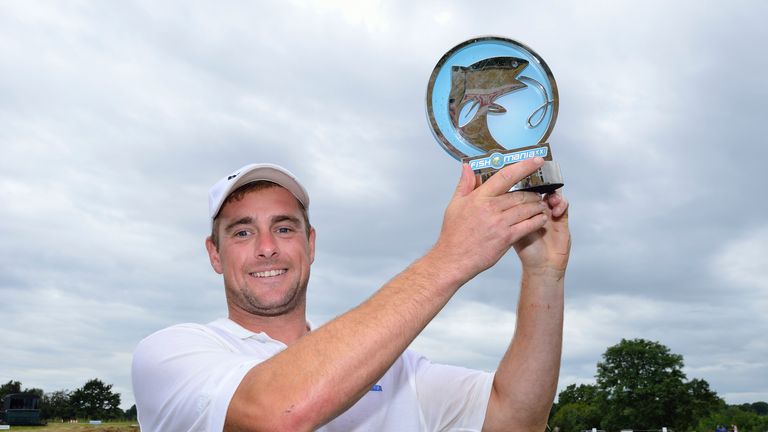 Andrew Geldart became Betway Fish'O'Mania XXI champion after coming on strong in the second half of the match to take the £30,000 top prize and the most prestigious title in angling.
The 29 year-old from Whitkirk, Leeds had come third at Cudmore three years ago and drew on that experience to hold his nerve in the tense closing stages. Geldart was always in the running and was never worse than third place in the opening two hours on a hot, muggy day at Cudmore.
Roach and skimmers kept him in the frame in the first two hours before six or seven decent carp proved to be match winners.
I cannot describe this feeling. I am absolutely over the moon.
Andrew Geldart
A delighted Geldart said, "I cannot describe this feeling. I put so much time and effort into my fishing over the last few years trying to qualify for these finals. It has paid off and I have won today and I am absolutely over the moon."
In front of a record crowd at Cudmore, the Yorkshireman took the lead at the sixth weigh-in following a productive thirty minutes with Hampshire angler Pemb Wrighting close on his tail.
The next period saw Geldart increase his lead slightly and a catch of 3.94 kg in the eighth put some distance between himself and Wrighting and Ashley Price.
That catch was to be Geldart's final contribution to his net as he drew a blank in the final hour. It was enough though to carry off the title as none of his rivals could bridge the gap. Daniel Brydon made a heroic effort in the last part of the match and it was enough to secure second spot and £5,000.
Geldart lost a carp in the final minutes – it was foul-hooked – but it made no difference as he took the 21st annual Betway Fish'O'Mania title.
"I got married about six weeks ago and then obviously this, so it is my year so far! I never knew if I was going to win because it was so close, somebody could have gone and caught two fish and that could have wiped me out.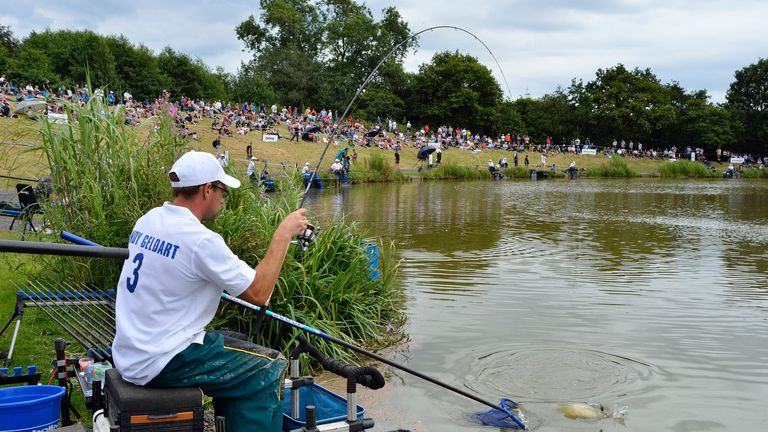 "The last half an hour was the worst half an hour of my life. I lost a fish in that last half hour but lucky it didn't cost me. When I lost the fish I was praying that Daniel didn't get another fish and luckily for me he didn't.
 "I haven't even thought about how to spend that money yet, but I will certain put a few quid behind the bar tonight."
Emma Pickering successfully defended her Betway Fish'O'Mania Ladies title as she came from behind in the closing stages to claim the £1,000 first prize. She will be celebrating the win by travelling to Ireland next week to watch her father Tom compete in the Seniors World Championship.
The 28 year-old from Doncaster made it a hat-trick of Fish'O'Mania titles having opened her account in 2008, and a final hour in which she netted over 3.5 kilos of fish was enough to seal the win.
Pickering was trailing in third place from Sophie Hill and Sam Perkins with an hour to go. Fishing on the pole though, she took sufficient carp in the final hour to win by 2.44kg.
"It feels great to win and really good to do it two years in a row. I'm the only person to win it three times now as well so it is a brilliant achievement.
"I stuck to my plan and saw one of the girls catching carp – that was in my game plan anyway. Definitely sticking to your plan is key.
"It was really difficult today – it got tougher as the match went on. The catch rate got slower and slower and it was a bit nerve wracking towards the end.
The £1,000 prize for the biggest fish went to Daniel Brydon on Peg 4 with a carp of 4.980kg.
2014 Betway Fish'O'Mania XXI – Full Results
Final Result
1. Andrew Geldart (3) 19.57kg
2. Daniel Brydon (4) 16.32kg
3. Andy Power (5) 14.58kg
4. Pemb Wrighting (7) 13.27kg
5. Ashley Price (6) 13.23kg
6. Raymond King (9) 9.28kg
7. Alan Bruce (1) 9.09kg
8. Kieron Rich (8) 8.16kg
9. Shaun Cooke (11) 5.99kg
10. David Burley (2) 5.19kg
11. Kevin Dicks (13) 4.54kg
12. Jamie Hughes (16) 4.36kg
13. Perry Stone (15) 2.96kg
14. Adam Rumble (12) 2.64kg 
15. Gary Bull (10) 1.60kg
16. Steve Cooke (14) 0.0kg
Ladies
1. Emma Pickering (Peg  1) 7.05kg
2. Sophie Hill (4) 4.61kg
2. Samantha Perkins (6) 4.27kg
4. Abi Brewster (5) 2.30kg
5. Jessica Knights (2) 0.61kg
6. Liz Larkin (3) 0.57kg