Fish 'O' Mania: England win International title for fourth year running
Will Raison and Des Shipp lead home side to glory
Last Updated: 15/07/14 4:47pm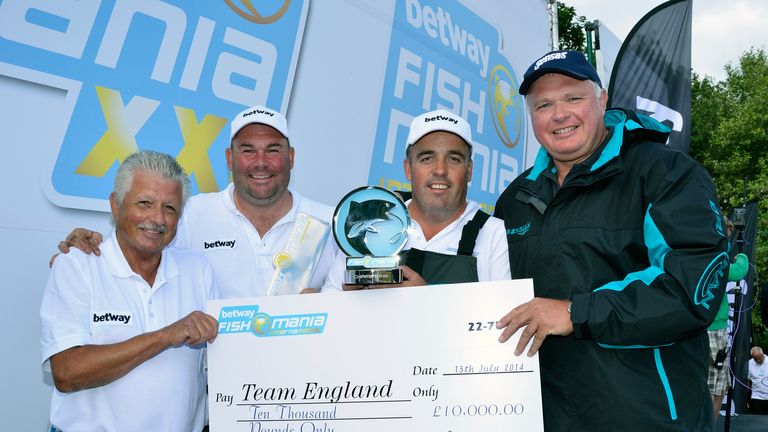 Team England, comprised of Will Raison and Des Shipp, continued English dominance of the Betway Fish'O'Mania International event as they lead from wire-to-wire to pick up the title for the fourth consecutive year and claim the £10,000 first prize.
It became apparent around the halfway stage that it would be a race to see who could claim second prize as Shipp and Raison proved why they are unstoppable on commercial waters. They lead by nearly four kilos at the first 30 minute weigh-in and by the two hour mark that lead had increased to 11 kilos.
They maintained that gap for the middle part of the match before turning up the heat in the closing stages to win by 14.870kg from Holland. Consistency was the name of the game for England as they caught throughout, backed by their astute management team of Mark Addy and Mark Downes.
With an hour to go we weren't really sure because there were a few carp being caught and we were beginning to think it would go the opposite way. It is great to win, brilliant.
Des Shipp
Shipp, who was making his debut in the pair's event, was thrilled with the win, "Me and Will stayed in the same room last night and we couldn't sleep, the pressure of it all, being England and being champions.
"With an hour to go we weren't really sure because there were a few carp being caught and we were beginning to think it would go the opposite way. It is great to win, brilliant."
Raison was keen to emphasise the team aspect of their success; "As a team we all sat down last night and had a really good meeting. Things were still up in the air but we knew what we wanted to do.
"At Cudmore you never really know how it is going to be until half an hour into the match, and that suits anglers like Des and myself who are experienced at this style of fishing. You have to plan but you do need to suck it and see what happens in the match.
"Having Mark Addy behind me has really helped today, not only does he have a fantastic angling brain but he has been there and done it, fished World Championships."
The England pair started on the slightly shorter pole and caught a mixture of tench, barbell, one decent carp, some skimmers and roach. Shipp caught three carp early on and then a couple in the last half hour but consistency was the key.
In the race for second place and the £5,000 prize, it was the Dutch who came through the field to pip Poland by 1.710kg. With the event broadcast live on Dutch TV, it was a terrific performance from Dieter Friederichs and Jurgen Spierings who caught nearly 5 kilos in the last half hour to pip the Poles.
The 2014 Fish'O'Mania Junior match was won by 18 year-old Cameron Cross from Sutton-in- Ashfield, Notts in an enthralling finish at Cudmore. Cross, who came fifth out of six in the same event last year, won by just 20 grams from a disappointed Liam Miller.
Cross, who will be entering the main event next year, claimed the £1,000 top prize with a bag of 6.390 kg to snatch it at the death after Miller caught a big fish in the closing stages to make the final weigh-in a tense one.
"It feels good and I'm really glad I have done it this year after last year. It was close but I got there in the end," said a delighted Cross.
"After last year I thought I would have a bit of an advantage this year because I had the experience of knowing how nerve-wracking it is at first. I tried not to let the occasion bother me too much this year.
"You never get to fish like this anywhere other than here, you wouldn't think it would make that big a difference but it is strange what it does for you really. If you were to ask anyone which event they most wanted to win it would be this one.
"It was tense at the end, I thought it would be close and I didn't think I had won. There was only 20 grams in it, nothing in it.
"I just fished 30 meter all day with worm and caster. I caught roach and skimmers and a tench. Everybody fished for carp and I knew if they caught them they would beat me but with it being so hard I took that tactic.
"Coming into the last hour I thought I was winning but when Liam caught that fish in the last five minutes I thought he had beaten me. It was very close.
The trainee electrician has already decided what he will spend his prize on; "I will put the money towards a new car because I passed my driving test on Friday. It will have to be a van to put all the fishing gear in!"
Full Results
1. England – 42.770kg
2. Holland – 27.900kg
3. Poland – 26.190kg
4. Ireland – 25.250kg
5. Scotland – 23.800kg
6. Wales – 21.820kg
7. Hungary – 12.460kg
8. France – 10.420kg
Biggest Fish (£1,000)
Will Raison 4.200kg
Individual weights
Will Raison (ENG) – 22.750kg
Des Shipp (ENG) – 20.020kg
Jurgen Spierings (HOL) – 17.000kg
Jamie Masson (SCO) – 15.680kg
Adam Niemiec (POL) – 14.980kg
Nick Howell (IRE) – 13.890kg
Lee Edwards (WAL) – 11.760kg
Vincent Walsh (IRE) – 11.360kg
Wojciech Kaminski (POL) – 11.210kg
Dieter Friederichs (HOL) – 10.900kg
Darren Frost (WAL) – 10.060kg
Robert Erdelyi (HUN) – 9.960kg
David Corcoran (SCO) – 8.120kg
Jean Desque (FRA) – 7.110kg
Gilles Caudin (FRA) – 3.310kg
Zsolt Brichter (HUN) – 2.500kg
Juniors
1. Cameron Cross – 6.39kg
2. Liam Miller – 6.37kg
3. Jordan Holloway – 5.31kg
4. Harry Munro – 4.24kg
5. Dalton Mullinger – 3.73kg
6. Zak Summerscales - 1.61kg