Sky Sports News: Look back at how we covered breaking news of yesteryear
Look back at our pioneering coverage ahead of August 12 relaunch
Last Updated: 29/07/14 10:50am
Sky Sports News has pioneered sports news broadcasting for more than 15 years.
And ahead of our relaunch on channel 401 as Sky Sports News HQ on August 12, we're looking back at some of the moments that have defined its place in the sporting landscape.
Today we take you back to 1998 when some of the headlines on Sky Sports News included:
Sky Sports News HQ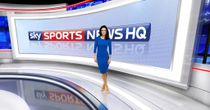 Launches on August 12
Click here for more
- France won their first football World Cup.
- Shane Warne took his 300th Test wicket.
- Paolo Di Canio was banned for pushing Paul Alcock.
- Australia retained the Ashes for a sixth consecutive time.
- Mike Tyson's boxing license was restored.
- Arsenal won a Premier League and FA Cup double.
Hit the video at the top of the page to see how Sky Sports News covered the big stories of the day.
And remember, from August 12 Sky Sports News HQ will offer even more breaking news across a streamlined TV, digital and mobile service. 
Launched for the new football season, Sky Sports News HQ will put the viewer at the heart of sports news with a new schedule, upgraded studio and improved digital services including redesigned apps and integrated social media coverage. 
Sky Sports News HQ will launch on Sky channel 401, providing viewers with an unrivalled sports news service plus a showcase of other content on the Sky Sports channels. 
For more information, visit www.skysports.com/newshq