WWE Raw: Bray Wyatt causes Luke Harper to lose to Chris Jericho in Texas
Eater of Worlds must not go it alone against Y2J at SummerSlam
Last Updated: 07/08/14 11:12am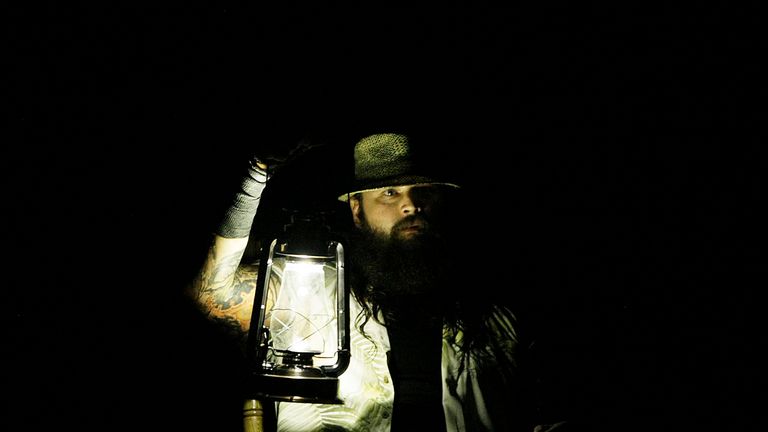 Bray Wyatt will fly solo at SummerSlam.
The Eater of Worlds is regularly aided in his crusades by trusty disciples Luke Harper and Erick Rowan, but neither of those meaty minions will be at Wyatt's side when he wrestles Chris Jericho in Los Angeles.
Jericho defeated Rowan on Smackdown to prevent the overall-wearing powerhouse from accompanying Wyatt to the ring at the Staples Center, and he ensured Harper suffered the same fate on Raw.
WWE SUMMERSLAM
1am, Sun (Mon), Aug 17
Live on Sky Sports Box Office
The Ayatollah of Rock 'n' Rolla bested the crazy-eyed Harper by disqualification in Austin on Monday evening after Wyatt opted to clump him in the neck in the midst of the contest.
Wyatt's actions mean he will now be on his lonesome in the City of Angels when he aims to avenge his loss to Jericho at Battleground and win at a pay-per-view for the first time since May.
Roman Reigns is unlikely to have many friends at SummerSlam, either, but he will have one bitter enemy after accepting Randy Orton's challenge to a match in The Golden State.
The onetime Shield grappler warmed up for that encounter by overcoming Kane in a Last Man Standing Match on Raw, a result that seemingly irked The Devil's Favourite Demon so much that he removed his mask and handed it to Stephanie McMahon.
McMahon went from mask-holder to Pedigree-deliverer at the end of WWE's flagship programme, though, flooring both Bella Twins with Triple H's trademark manoeuvre after her SummerSlam showdown with Brie was made official at a contract signing.
Rejuvenated
More clashes were penned onto the SummerSlam card, too, with Dolph Ziggler – a victor over Cesaro on Raw – learning he will face The Miz for the Intercontinental Title and Paige handed a Divas Championship dustup with AJ Lee.
Seth Rollins and Dean Ambrose will wrestle each other in Los Angeles, with the stipulation to be decided by Ambrose on Friday night's Smackdown after he won a Beat the Clock Challenge on the red brand.
The Lunatic Fringe polished off Alberto Del Rio in just under 16 minutes and not only was Rollins unable to beat that time, he was unable to win his match against the rejuvenated Heath Slater.
Slater pinned The Architect after his opponent became distracted by Ambrose ripping up his Money in the Bank contract and pouring soda in his now-empty briefcase - and while The American Rockstar celebrated his win and Ambrose scurried into the crowd, Rollins had a tantrum at ringside.
Elsewhere, Lana sung Happy Birthday in Russian to United States President Barack Obama – before she was told to hush by Zeb Colter – while Stardust and Goldust beat RybAxel, and Mark Henry made a triumphant return in his home state by flattening Damien Sandow.
Plus, Fandango lost to Diego following a collision with new dance partner Hornswoggle, and R-Truth was vanquished by Bo Dallas and subjected to a post-match Running Bo-Dog onto the concrete floor.
SummerSlam will be shown live on Sky Sports Box Office and Sky Sports HD Box Office at 1am, on Sunday (Monday) August 17, with repeat programmes available until the following Saturday.
SummerSlam booking details
WWE SummerSlam will be shown at 1am on Sunday, August 17 (Mon) on Sky Sports Box Office (channel 743) and on Sky Sports HD Box Office (channel 752).
WWE SummerSlam will be repeated on Sky Sports Box Office (channel 743) BUT NOT Sky Sports HD Box Office (channel 752) until 9pm on Saturday, August 23.
Repeats showing will last three hours, with the final showing BEGINNING at 9pm on Saturday, August 23.
The event is priced at £14.95 for UK customers, €21.95 for customers in the Republic of Ireland.
Viewers can call 08442 410 888 from Tuesday, August 5 to book WWE SummerSlam. (There may be an additional charge for telephone bookings).
You will be able book WWE SummerSlam online from Tuesday, August 5 by visiting this link: https://my.sky.com/orderboxoffice/
You can also order WWE SummerSlam at a later date by pressing the Box Office button on your remote. Select 'sports & events' and follow the on-screen instructions.
Cable customers should contact their local cable operator.