WWE Raw report: John Cena sends message to Brock Lesnar by attacking Wyatt Family
Roman Reigns avoids going the same way as Dean Ambrose...
Last Updated: 26/08/14 4:49pm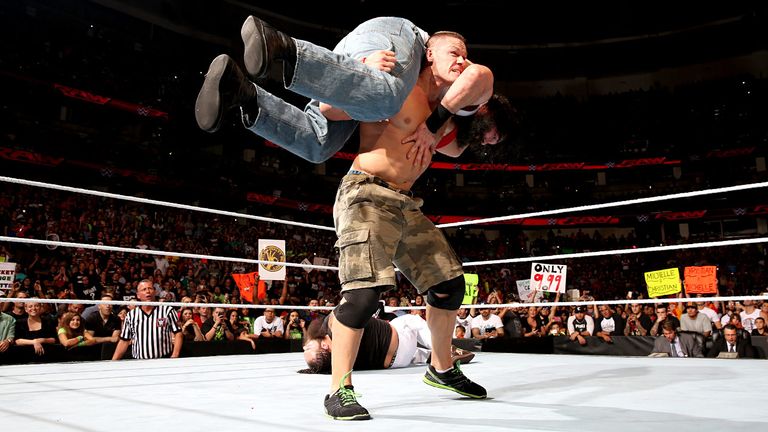 Shawn Michaels and Ric Flair kicked off Raw by revealing that they don't think John Cena can beat Brock Lesnar at Night of Champions – but perhaps The Cenation Leader has changed their mind…
Not only did the Massachusetts wrestler vow to defeat Lesnar in Nashville on September 21 and regain the WWE World Heavyweight Title, but he also showcased his vicious side by dominating all three members of The Wyatt Family on Monday night.
The 15-time world champion pummelled Bray Wyatt – the man he feuded with over the spring and early summer – with a flotilla of suplexes in the red brand's main event, and when The Eater of World's minions, Luke Harper and Erick Rowan, came to help their master, Cena whacked them, too.
WWE NIGHT OF CHAMPIONS
1am, Sun, Sep 21
Live on Sky Sports 3
Harper and Rowan's interference led to Mark Henry and Big Show evening the odds and, ultimately, Raw's final bout of the evening being turned into a six-man tag-team match by The Authority.
And Cena was the star of the contest, forcing Harper to tap out the STF, hitting Harper, Rowan and Wyatt with Attitude Adjustments, and, perhaps, giving Michaels, Flair and Lesnar – wherever he was – something to mull over.
Demise
Dean Ambrose, like Lesnar, was absent from Monday Night Raw after being sent careering into a pile of cinderblocks via Seth Rollins' Curb Stomp seven days ago in Las Vegas.
Rollins and Kane revelled in Ambrose's apparent demise when they took to the ring in Anaheim but Roman Reigns spoiled their fun by attacking both The Aerialist and The Devil's Favourite Demon.
A two-on-one handicap bout was quickly sanctioned by The Authority and while the numbers were not in Reigns' favour the Juggernaut managed to take charge of the dust-up – until Rollins clobbered him with his Money in the Bank briefcase.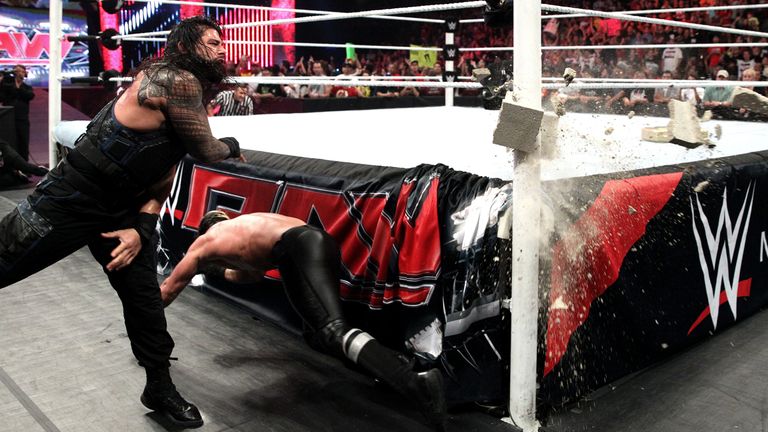 Rollins then attempted to replicate last week's deeds by putting Reigns face first into a bunch of concrete slabs, but the latter managed to wriggle free and almost smack The Architect in the face with a brick.
Riot
Elsewhere, Jack Swagger saw his bout with Rusev curtailed by the referee after The Super-Athlete smacked his ribs continually with kicks – though The Real American did record some joy later on by attacking his latest rival Bo Dallas.
Cesaro beat Rob Van Dam to become the No 1 Contender to Sheamus' United States Title; Dolph Ziggler overcame a Damien Sandow in Miz's clothing; and Los Matadores – reunited after Fernando's return from injury – saw off Titus O' Neil and Heath Slater.
Goldust and Stardust, meanwhile, ran riot on The Usos after failing to pinch the Samoan-American twins' WWE Tag Team Titles, and Paige received a kiss on the hand from nemesis AJ Lee after conquering Natalya with the Paige Turner.
Plus, Jerry Lawler's attempts at reconciling warring sisters Nikki and Brie Bella ended in disaster, with Nikki refusing to accept Brie's apology and Brie bawling in Lawler's arms after being clattered by her sibling once again.