Double jeopardy
CM Punk's WWE Title reign will be under threat when he faces both Ryback and John Cena at Survivor Series.
Last Updated: 06/11/12 3:59pm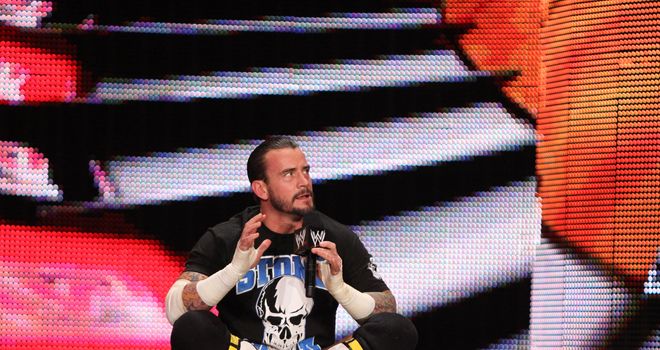 WWE Champion CM Punk will defend his title against Ryback and John Cena in a Triple Threat Match at Survivor Series.
The Second City Saint had been expecting to take part in a traditional five-on-five elimination bout at this month's pay-per-view, but these plans were shattered on Monday night when WWE Chairman Vince McMahon forced Raw managing supervisor Vickie Guerrero to place Punk in a title bout instead.
The Chicagoan, who has held his gold since beating Alberto Del Rio at the 2011 Survivor Series, was given the chance to scout Cena and Ryback inside Birmingham's LG Arena when he teamed up with Mr Money in the Bank Dolph Ziggler to face them.
However, Punk suffered defeat after being levelled with Ryback's patented Shell-Shocked manoeuvre - just as he was at Hell in Cell - before Big Hungry and Cena locked eyes in the ring. Which man will walk out of Survivor Series with the WWE's premier prize?
Ziggler, meanwhile, has taken Punk's place as team captain at Survivor Series and will lead his charges - Cody Rhodes, Damien Sandow, Alberto Del Rio and, after The Miz pulled out, Wade Barrett - into combat against Team Foley in Indianapolis, Indiana.
Distracted
Ziggler's squad enjoyed differing fortunes at Raw, though; Briton Barrett conquered Brodus Clay and Rhodes defeated Daniel Bryan, but Sandow lost to Kane and Alberto Del Rio was beaten by Kofi Kingston after being distracted by rival Randy Orton's entrance music.
Referee Brad Maddox caused a stir when he cost Ryback the WWE Title at Hell in a Cell and explained the reason why on Monday night: he wants to become a fully-fledged WWE Superstar.
The crooked official was promptly interrupted by McMahon who promised Maddox a million-dollar performer's contract - but only if he beats Ryback on next week's Raw in Columbus, Ohio.
Elsewhere, former World Heavyweight Champion Sheamus - who can earn back his title by defeating Big Show at Survivor Series - saw off the Miz, Santino Marella and Zack Ryder registered victory against Primo and Epico, and Heath Slater bettered Jey Uso.
Plus, Rey Mysterio, Sin Cara and R-Truth dispatched the Prime Time Players and United States titlist Antonio Cesaro, while Layla and Kaitlyn edged their bout with Divas Champion Eve and Aksana.