No table manners
Ryback was sent crashing through the announce desk for the second night running on Monday's episode of Raw.
Last Updated: 22/11/12 1:42pm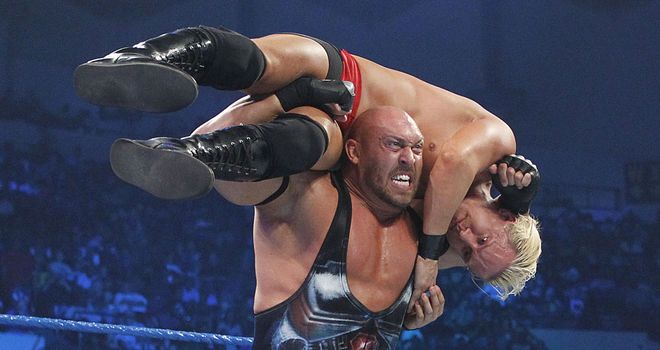 Three is most definitely not easy for Ryback.
Big Hungry's hopes of ripping the WWE Title from CM Punk were scuppered at Survivor Series when he was attacked by NXT tyros Seth Rollins, Dean Ambrose and Roman Reigns - and the same thing happened at the culmination of Monday Night Raw.
Ryback - who had defeated Tensai earlier in the show - strode to the ring to interrupt Punk's celebrations for holding the WWE Championship for a full calendar year, but before he could get his hands on the Second City Saint, the Sin City powerhouse was assaulted and sent crashing through the announce table by the chaos-causing trio.
John Cena - the third member of the WWE Title Triple Threat Match on Sunday night - also ended the evening in pain after being pounced on by Dolph Ziggler in the ring and in the WWE locker room, and picking up a nasty-looking knee injury.
Meanwhile, the 12-time world champion did little to dampen Vickie Guerrero's allegations that he is having an affair with AJ Lee when he kissed the former Raw general manager in the middle of the arena.
Triumph
A series of high-octane matches also take place in Dayton, Ohio with Randy Orton's victory against Alberto Del Rio in a two-out-of-three falls clash, and Wade Barrett's triumph over Intercontinental Champion Kofi Kingston the pick of the duels.
Elsewhere, The Miz bested David Otunga and United States titlist Antonio Cesaro vanquished the gargantuan Brodus Clay, while Team Hell No's tag-team bout with Rey Mysterio and Sin Cara ended in a no contest after interference from The Prime-Time Players.
Plus, Kaitlyn gained revenge for her beat-down at the hands of Aksana prior to her Divas Title match with Eve at Survivor Series by defeating the Lithuanian star in singles action.
For more on all these stories head to WWE.com and then tune into WWE Smackdown, 10pm, Friday, Sky Sports 3 HD.