Oscar Pistorius bail hearing decision expected in the next few minutes
Oscar Pistorius will find in the next few minutes if he has been granted bail by a Pretoria magistrate.
Last Updated: 23/02/13 12:48pm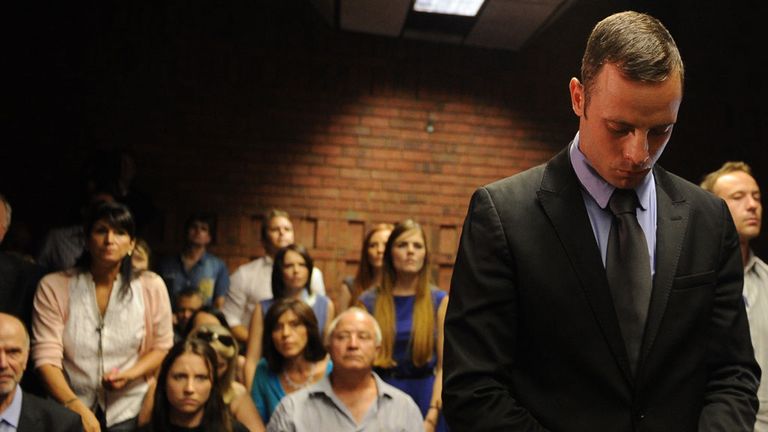 Pistorius is accused of murdering his model girlfriend Reeva Steenkamp at his Pretoria home, a claim he denies, stating instead he shot her by accident as he believed her to be an intruder.
The prosecution insists the 26-year-old Paralympian is a flight risk if he is granted bail, highlighting a previous incident involving Pistorius in which he is said to have fired a gun in a restaurant, then asked a friend to shoulder the blame for the incident.
"Lots of important people have fled, are still fleeing justice. Lots of people have escaped bail," said Prosecutor Gerrie Nel.
"Who should tell the court what happened? The applicant, not the state. We say the court should refuse bail."
Nel had claimed on Thursday that Pistorius wanted to continue with his life "as if this incident never happened."
Risk
He also stated that the athlete's "total lack of insight and willingness to take responsibility for his deeds" increased his risk of fleeing.
Nel also claimed Pistorius' actions on the night Steenkamp was killed were indicative of a man prepared to fire to kill.
"He fired four shots, not one shot," he added. "The only reason you fire four shots is to kill. On his own version, he's bound to be convicted."
Pistorius' defence lawyer, Barry Roux, brought up the lesser charge of culpable homicide as a possibility for the first time in the hearing when answering questions from the magistrate.
"He did not want to kill Reeva. He had no intent to kill Reeva," he said.
Roux also denied claims Pistorius would flee if granted bail, claiming he was too famous to escape South Africa before trial.
"Let me tell you how difficult it is for this man to disappear from this world," added Roux.