UFC 162: Chris Weidman confident he can end the reign of Anderson Silva in Las Vegas
Anderson Silva will put his middleweight title on the line when he takes on Chris Weidman at UFC 162 in Las Vegas.
Last Updated: 03/07/13 3:44pm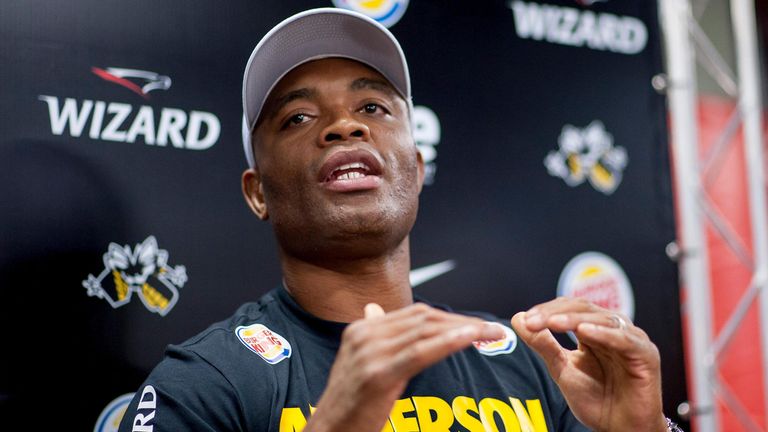 Silva puts his middleweight championship on the line at UFC 162 in Las Vegas against Chris Weidman - a young, hungry buck who fellow fighters believe has all the tools to finally dethrone the greatest of all time.
Veterans and champions such as Georges St-Pierre, Rashad Evans, Dominick Cruz and Chael Sonnen have all publicly backed Weidman to score an upset, putting Silva's back against the wall for the first time in his UFC career.
The school of thought is that Sonnen's wrestling offence created a blueprint to trouble Silva in their two fights and that Weidman can implement the same game plan with superior skill. "I'm a nightmare for him stylistically," the challenger told UFC.com.
He continued: "The title of greatest of all time, he's earned that and I respect that but I'm not fighting the myth, the aura or the mystique. I'm fighting a man who I think I can beat."
Weidman has never fought anyone of Silva's calibre but outside the cage he has overcome far bigger struggles - Hurricane Sandy destroyed his family home and set him on a path of redemption that may culminate on Saturday.
Winning run
But even at 38 and with fellow champions predicting his downfall, Silva remains capable of moving around the cage like a cross between a Bruce Lee film and a video game. He has won all 17 UFC fights and has only lost by disqualification since 2004.
"A lot of people tell me I'm the best but these are not your friends. You need the guys that say, 'hey what the hell is going on, this is bad'," the Brazilian tells UFC.com.
A new 10-fight contract suggests longevity but Silva now uses legacy as his defining motivation.
He reflects: "One day my first coach told me to train martial arts and see the change in my life because here you need respect. You understand this and you are the best man in the world.
"I have plans in the UFC but I'm an old man now!"
An old man whose ability has redefined martial arts but for the first time this weekend he fights a challenger who may just be able to make the master look human.