UFC: Contrasting build-ups for Demetrious Johnson and John Moraga ahead of title bout
Demetrious 'Mighty Mouse' Johnson puts his UFC flyweight title on the line against John Moraga on Saturday.
By James Dielhenn
Last Updated: 24/07/13 9:16pm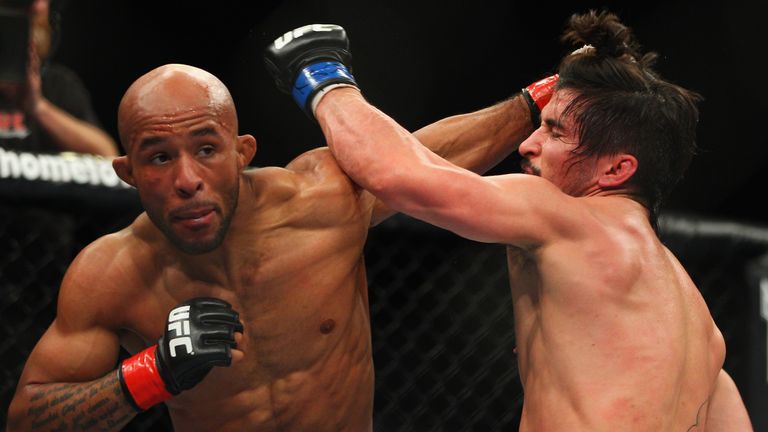 But for John Moraga, standing across the cage, hardship is the motivation.
Preparations have taken emotional tolls - Johnson's first child arrived last Friday while Moraga received the call to fight while burying his teenage cousin.
Fists will fly in Seattle - the champion's hometown - but their lives are at different stages. Johnson, 26 years old and three years younger than his challenger, won a four-man tournament last year to go down in history as the first 125-pound champion. His career as a UFC title holder is very much up and running.
But Moraga's place on posters is far more unexpected. He has only competed in mixed martial arts' premier organisation for five months and his two fights - both comprehensive victories - have been untelevised preliminary contests.
Moraga's story is one we've heard before - an upbringing in a rough Arizona neighbourhood and Mexican heritage meant fighting came naturally.
Tough
"The people I hung out with when I was little are all in prison or they're dead. I've seen my homies dead in the street," he reflected to UFC.com.
"When I go into the cage what's the worst that's going to happen to me? You're going to knock me out? So what! I'm still alive!"
Johnson's route to the top was by no means easier. With no weight class to accommodate his 5ft 3in frame he fought bigger men for four years.
His frenetic and stifling pace across a 25-minute fight has been the trademark which earned his 'Mighty Mouse' moniker but his habit of winning judges' decisions doesn't sit well with Moraga.
The challenger argued: "Every fight he's in he does the same thing. I can go to my kitchen, I can make a sandwich and I know when I come back that he's still going to be doing the same thing.
Motivation for a world title fight rarely comes in such extreme form as childbirth or bereavement but on Saturday night two of the UFC's smallest fighters will prove that their hearts as are big as anyone's.