MLB: Tampa Bay Rays overtake Boston Red Sox at top of the AL East
Boston Red Sox ceded first place to Tampa Bay Rays in the American League East after losing 6-0 to Baltimore Orioles.
Last Updated: 27/07/13 3:12pm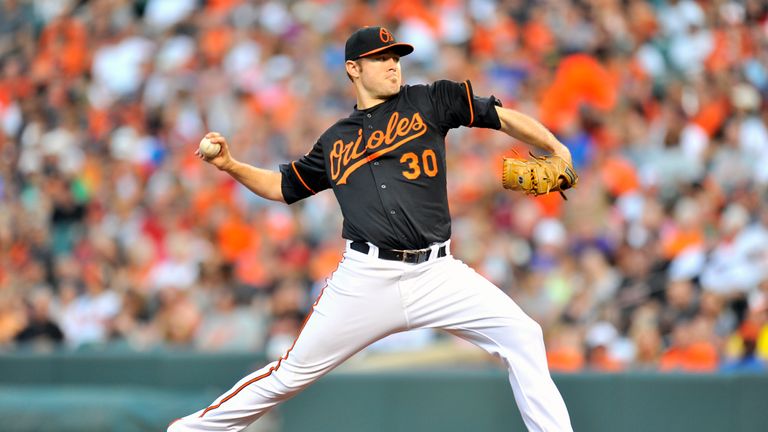 A pair of home runs from Adam Jones and seven near-perfect pitched innings from Chris Tillman created the chasm between the teams at Camden Yard, as Boston relinquished their long-time grip on first place in the division.
Tampa Bay tamed the New York Yankees, winning 10-6. At one point the Rays led 10-1, with New York's revival in the final two innings restoring some credibility.
New York's final hope went in the ninth inning when Alfonso Soriano, back with the franchise after joining from the Chicago Cubs earlier in the day, was retired when the bases were loaded.
Having let a 7-1 lead slip away, the Cleveland Indians finally settled their contest against the Texas Rangers by an 11-8 margin when Ryan Raburn blasted a three-run homer in the 11th inning.
A pair of homers from Edwin Encarnacion in the seventh inning helped the Toronto Blue Jays overcome the Houston Astros 12-6, while the Kansas City Royals overhauled the Chicago White Sox 5-1 and the Oakland Athletics beat the Los Angeles Angels 6-4.
Solo homer
It took them 13 innings, but the Minnesota Twins eventually overcame the Seattle Mariners 3-2. Chris Colabello's solo homer settled the match.
In the National League, the Central Division-leading St Louis Cardinals were felled 4-1 by Eastern frontrunners the Atlanta Braves, who were aided by a home run from Jason Heyward and miserly pitching from Mike Minor.
In a double-header in Washington, the Nationals were trounced 11-0 by the New York Mets in the opening game, in which Daniel Murphy crunched two home runs. It was a different story second time around as the Nationals edged it 2-1 to spare their blushes, the key moment coming when Ryan Zimmerman homered in the bottom of the ninth.
The Los Angeles Dodgers preserved their half-game advantage over the Arizona Diamondbacks in the NL West after a 2-1 win against the Cincinnati Reds.
Arizona were in commanding form as they blanked the San Diego Padres 10-0.
The Colorado Rockies toppled the Milwaukee Brewers 8-3, the Miami Marlins sneaked by the Pittsburgh Pirates 2-0 and the Chicago Cubs eked out a 3-2 victory at the expense of the San Francisco Giants, while in an inter-league tussle the Detroit Tigers pinched a 2-1 win against the Philadelphia Phillies.