WWE Summerslam: Read our recap of the 2012 event in Los Angeles
With SummerSlam taking place this Sunday, click here to read our recap of last year's big event...
Last Updated: 13/08/13 5:33pm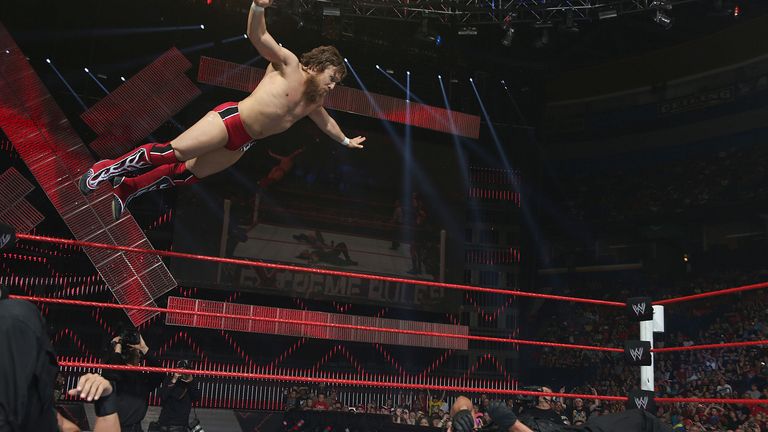 There are some cracking encounters in the pipeline with Daniel Bryan battling WWE Champion John Cena, CM Punk locking horns with Brock Lesnar, and Cody Rhodes combatting Damien Sandow.
But Summerslam 2013 has a lot to live up to following the 2012 version, which was full of memorable moments, eye-catching bouts and successful title defences.
So before you watch events unfold at the Staples Center in Los Angeles this weekend, read below for our recap of last year's summer spectacular - and where it lead the men involved...
Daniel Bryan bt Kane
Bryan will fight John Cena for the WWE Title in Los Angeles on Sunday but 12 months ago he beat The Big Red Monster, turning his opponent's attempt at the Tombstone Piledriver into a roll-up pinfall. Bryan and Kane continued to bicker after their duel at the Staples Center and were placed into Dr Shelby's Anger Management class - and from that a highly-effective partnership bloomed. Named Team Hell No, the submission specialist and the Devil's Favourite Demon won the WWE Tag Team Titles from Kofi Kingston and R-Truth at Night of Champions in September 2012 and successfully defend them for the next eight months against twosomes like Team Rhodes Scholars, and Dolph Ziggler and Big E Langston. Bryan and Kane saw their titles nabbed by The Shield's Seth Rollins and Roman Reigns in May and after failing to reclaim them, the odd couple went their separate ways - and whilst the former tries to pinch Cena's strap this weekend, the latter will go one-on-one with eerie newcomer Bray Wyatt in a Ring of Fire Match.
Chris Jericho bt Dolph Ziggler
The Ayatollah of Rock 'n' Rolla (pictured) vanquished the Showoff in 2012 - but was smiling for just one night. Jericho recovered from being clocked by a Zig Zag to force Ziggler to submit to the Walls of Jericho in LA - only to lose to the same opponent and see his contract terminated the following evening on Raw. Y2J remained absent from the WWE for six months before making a shock reappearance as the second entrant in the 2013 Royal Rumble - much to the chagrin of entrant number one, Ziggler - but after a recent pummelling at the hands of Ryback, has taken another sabbatical. Ziggler, though, went from strength to strength following his feud with Jericho, picking up a big win over John Cena at the TLC pay-per-view and ripping the World Heavyweight Championship from Alberto Del Rio the day after WrestleMania 29. The bleach-blonde fighter's title reign was short-lived, though, after Del Rio profited from his concussion to seize his gold back, and the Showoff will team with Kaitlyn to take on AJ Lee and Big E Langston this weekend.
The Miz bt Rey Mysterio
The Miz (pictured) overcame Mysterio last year to retain the cherished Intercontinental Championship, hitting the Master of the 619 with the Skull-Crushing Finale to win a match that came about after Mysterio had pinned the ex-reality TV star on an episode of Monday Night Raw. The Awesome One - who lost the strap to Kofi Kingston later in 2012 and regained it, albeit briefly, by knocking off Wade Barrett at WrestleMania - does not have a match at Sunday's summer spectacular, but will act as the show's host. Mysterio, meanwhile, formed a tag team with fellow luchadore Sin Cara in the months that followed SummerSlam 2012 and even though the high-flyers were unable to win gold, they did attain an eye-catching non-title triumph over Team Hell No. The former world heavyweight champion is currently recuperating away from the ring, however, after accruing a knee injury following an attack from the World's Strongest Man, Mark Henry, back in March.
Sheamus bt Alberto Del Rio
Irish wrestler Sheamus (pictured) will be shorn of an appearance at this year's SummerSlam after suffering a shoulder injury that will rule him out for between four to six months, but he can look back at last term's August extravaganza fondly following his retention of the World Heavyweight Championship in a high-octane brawl with Del Rio. Mexican star Del Rio, though, continued his pursuit of the world title and was able to snare it from Big Show in a Last Man Standing match on an edition of Friday Night Smackdown in January. The Essence of Excellence defended the gold at WrestleMania, where he managed to defeat Elimination Chamber winner Jack Swagger, and having re-collected the belt from Ziggler recently, will put it on the line against Christian on Sunday. Captain Charisma has beaten Del Rio in two non-title bouts over the last few weeks, but SummerSlam does hold a great memory for the champion - he cashed in his Money in the Bank contract against CM Punk at the event in 2011 to win his first WWE Title.
CM Punk bt John Cena and Big Show
The WWE Championship was up for grabs in a Triple Threat Match in 2012 - and Punk (pictured) used all his cunning to retain it. Big Show tapped out, but as it could not be deciphered who had won the match - with Punk administering a submission move on the World's Largest Athlete's head and Cena locking in the STF - then Raw General Manager AJ Lee re-started the encounter. Cena looked primed to pluck gold after flooring Big Show with the Attitude Adjustment but Punk tossed the Cenation Leader out of the ring and pinned the giant himself. The Chicagoan held the strap - mainly through dishonest means - until the Royal Rumble event in January when he fell victim to The Rock and he was also foiled at WrestleMania 29 as he aimed to break the Undertaker's unbeaten streak at the grandest show of them all. Following a short hiatus, though, Punk returned in front of his adoring home fans at WWE Payback to beat Jericho - and will next battle the Anomaly, Brock Lesnar in one of the main events at SummerSlam on Sunday, speaking of which....
Brock Lesnar bt Triple H
Lesnar (pictured) will be looking at win at SummerSlam for the second successive year following his vanquishing of Triple H in 2012. The Anomaly had broken the Game's arm a few months previously and targeted his opponent's limb for the majority of the match, regularly applying his kimura lock. The Cerebral Assassin managed to get in his fair share of offence, hitting Lesnar with two Pedigrees, but eventually submitted to the Beast Incarnate. The grapplers have traded victories since - Triple H winning at WrestleMania with his career on the line, and Lesnar prevailing at Extreme Rules inside of a steel cage - and while the Anomaly fights Punk this weekend, the Game will be trying to ensure that the WWE Championship match between Cena and Bryan runs smoothly as he acts as special guest referee. Still, the last time Triple H wore his refereeing shirt, at SummerSlam two years ago, he decided Punk had pinned Cena, despite the latter's foot being on the rope, and then saw Del Rio pinch the Second City Saint's belt after interference from Kevin Nash.It looks like chaos is guaranteed on Sunday...
WWE SummerSlam Booking details
WWE SummerSlam will be shown live on Sky Sports Box Office (channel 743) and in high definition on Sky Sports HD Box Office (channel 752) at 1am on Sunday, August 18 (Monday morning).
WWE SummerSlam will be repeated on Sky Sports Box Office (channel 743) - but NOT on Sky Sports HD Box Office (channel 752) - between 9am on Monday, August 19 and 9pm on Saturday, August 24. Repeat showings will last for three hours.
The event is priced at £14.95 for UK customers, €21.95 for customers in the Republic of Ireland.
You can order WWE SummerSlam from Friday, August 9 by pressing the Box Office button on your remote. Select 'sports & events' and follow the on-screen instructions.
Viewers will be able to call 08442 410 888 to book WWE SummerSlam from Friday, August 9. (There may be an additional charge for telephone bookings).
You can also book WWE SummerSlam online from Friday, August 9 by visiting this link: https://my.sky.com/orderboxoffice/
Cable customers should contact their local cable operator.