Oscar Pistorius will go on trial for murder in March next year
South African Paralympian Oscar Pistorius' trial date has been set for 3 March next year.
Last Updated: 19/08/13 3:18pm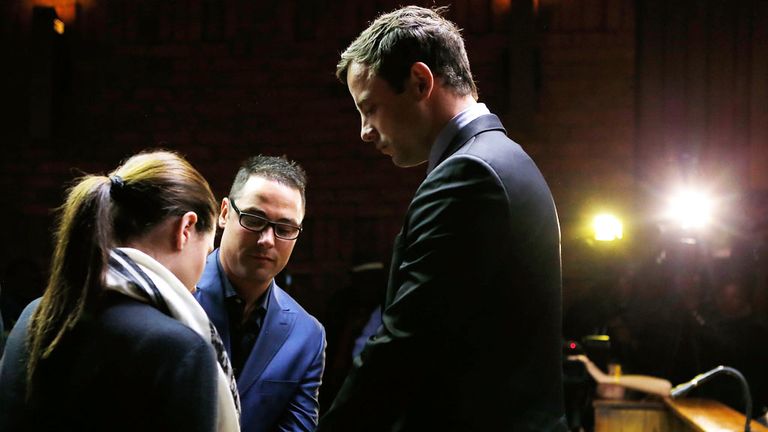 The double amputee is accused of killing his girlfriend Ms Reeva Steenkamp, who would have turned 30 on Monday, in a shooting incident at Pistorius' home in February.
Pistorius denies he committed murder and says he shot Ms Steenkamp by mistake, thinking she was an intruder.
The 26-year-old Pistorius was at Pretoria Magistrate's Court on Monday for a brief but high-profile hearing.
The court heard the six-time Paralympic gold medallist will stand trial from March 3-20 at North Gauteng High Court in Pretoria.
Magistrate Desmond Nair confirmed the case has now been transferred to the High Court and that the bail conditions remain the same.
Pistorius was asked by the magistrate if he felt well, and he replied "yes, under the circumstances your honour".
The athlete stood in the dock, wiped away tears, and held hands with brother Carl and sister Aimee, as he waited for the proceedings to begin.
Pistorius facing life sentence
He faces a life sentence with a minimum of 25 years in prison if convicted of premeditated murder.
The hearing lasted just 10 minutes and no mention was made of extra charges relating to allegations of recklessly discharging a firearm - relating to two separate incidents - which were reported to have been added to the indictment.
The indictment accuses Pistorius of murder, and unlawful possession of ammunition, contrary to Section 90 of the Firearms Control Act.
A summary stating the prosecutors' case alleges that Ms Steenkamp, whose cause of death was given as multiple gunshot wounds, locked herself in the toilet cubicle next to the main bedroom at Pistorius' house in the early hours of February 14.
It claims the athlete armed himself with his 9mm pistol and fired four shots through the locked door.
The summary added that some state witnesses heard a woman scream, followed by "moments of silence, then heard gunshots, and then more screaming".
Double gold medal winner
Pistorius' arrest made headlines around the world due to his status as a sporting hero.
He was a double gold medal winner at the Paralympic Games in London last year, having previously become the first double amputee to compete at the Olympics.
Nicknamed the 'Blade Runner' because of the prosthetic limbs he uses, Pistorius is said to have resumed a 'low-key track routine'.