Fighting talk
UFC fighter Rosi Sexton believes women's mixed martial arts is experiencing a surge of interest
By James Dielhenn (@jamesdielhenn)
Last Updated: 17/10/13 1:05pm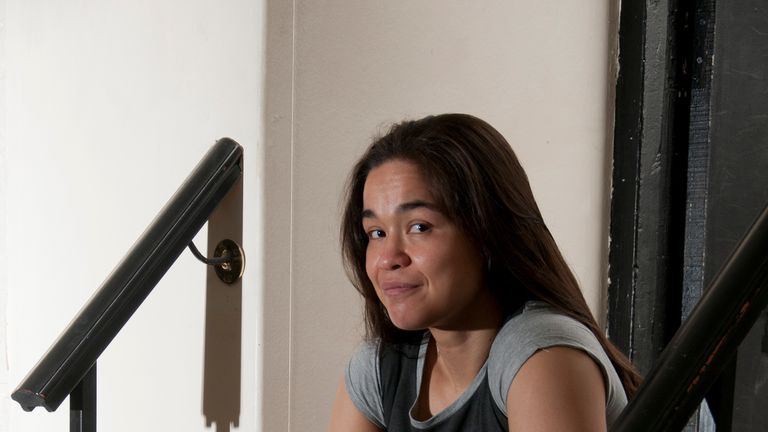 The Ultimate Fighting Championship, the premier league of mixed martial arts which combines disciplines such as wrestling, boxing and jiu-jitsu, has recently introduced a women's division to huge avail.
Sexton, already the first mother to compete in the UFC's iconic Octagon, will meet Jessica Andrade in the first female fight on European soil on October 26 in Manchester and will be flying the flag for women strapping on a pair of gloves.
She told Sky Sports: "With the rise of women in the UFC, we're seeing a lot of young girls going to gyms and saying, 'I want to compete'.
"Compared to 13 years ago when I first got involved in MMA it's an environment now that is much more welcoming towards women. It's much more accepted now that women do compete in this sport to a high level."
Commonly and inaccurately referred to as 'cage-fighting', nobody is a better ambassador for MMA than the articulate and educated Sexton. A first class degree in mathematics and a PhD in theoretical computer science from Cambridge and Manchester Universities prove that the sport welcomes women from unexpected backgrounds.
"We're now where women in other sports were 50, 60 or 70 years ago," she continued.
"Over that time we've seen women in mainstreams sports but combat sports is the last area to catch up - for example boxing introducing a women's competition in London."
Sexton is acutely aware of Britain's fighting women at last summer's Olympics.
London stars
She added: "Nicola Adams had a fantastic showing. Gemma Gibbons in the judo. I'm training at the moment with (judo player) Sophie Cox.
"I was paying particular attention to the combat athletes at the Olympics."
Boxing and judo may lead the way for women entering combat sports but Sexton, the UFC's only English female, is convinced that MMA can follow suit.
She said: "The first time you watch it when you don't really know what you're looking at then some people take it the wrong way.
"As they start to understand just how much technique is involved and exactly what's happening in certain positions, that's when people fall in love with it. It's possibly one of the most technical sports in the world."
Sexton's wide variety of techniques combined with her back-story means she, alongside Olympians like Adams, Gibbons and Cox, is breaking down barriers for her gender.
"Quite a few people contact me and say, 'because of you, I've been inspired or my daughter has been inspired'.
"When those girls can see women compete at the top level, they think, 'that could be me'.
"That's what means the most to me."
Her first UFC victory later this month will hopefully spawn a new generation of girls taking up a sport that is still in its infancy.