Sports Scholarships now part of new Sky Academy
Sky Academy launched on Tuesday with David Beckham named as ambassador.
Last Updated: 05/11/13 10:56am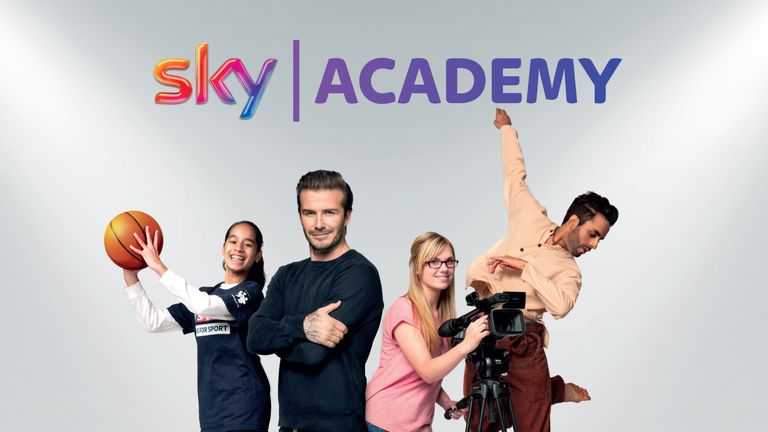 Sports Scholarships will now be a part of Sky Academy alongside other initiatives such as Sky Sports Living for Sport.
A press release stated: "As it approaches its 25th anniversary at the start of 2014, Sky is establishing Sky Academy to deliver a ground-breaking set of initiatives to support the under-25s, the generation born since Sky's launch in 1989. Its ambition is to create opportunities for up to one million young people through Sky Academy by 2020.
"To help inspire young people, Sky Academy will work with role models from television, sport and the arts, as well as drawing on the passion and expertise of Sky's own employees. David Beckham, as Sky Academy Ambassador, will lead a team of top names including Jessica Ennis-Hill, Darren Campbell and Ashley Banjo to get young people from across Britain and Ireland involved."
Initially, Sky Academy will be made up of four initiatives: Sky Academy Skills Studios, Sports Sports Living for Sport, Sky Academy Starting Out and, of course, Sky Academy Scholarships. A fifth will follow in 2014 that is "built around creativity and the arts."
BSkyB Chief Executive Jeremy Darroch outlined the plan for the scheme and stressed the importance of a successful company such as Sky using their position to help the younger generation across the British Isles.
"Building skills and nurturing talent are vital not just for business success but for society as a whole," he said. "A generation has been born since Sky's launch and, as we look ahead to our 25th anniversary next year, we want to use our position as a successful company to support young people across Britain and Ireland.
Exciting opportunities
"Sky Academy will create exciting opportunities to inspire young people and help them build skills and experience. We'll use our strengths as a leading media and technology company and work with inspirational role models to get people involved and make a lasting impact."
Former England football captain Beckham expressed his delight at being part of Sky Academy and believes role models and mentors can be crucial for young people and their influence cannot be overlooked.
"Mentors and role models have always been important to me," he added. "When I was young, they helped me to believe in myself and gave me the confidence to follow my dreams. That's what Sky Academy will do and I'm excited to be a part of it."
Sports Scholarships are also pleased to announce former world cruiserweight boxing champion and now presenter on Sky Sports' Ringside programme Johnny Nelson as spokesperson. Nelson will work with the scholars and help to advise them as they progress in the world of sport.
Construction is due to start on the new 2,000 square metre building for Sky Academy on Sky's West London campus in the next few months and it is expected to open its doors in summer 2014.
For more information, go to www.sky.com/academy.