Set for Sochi
There's no guarantees in Short Track but Elise Christie and Stuart Horsepool tell us how Team GB are doing everything possible in pursuit of Olympic medals in Sochi.
Last Updated: 05/02/14 11:05am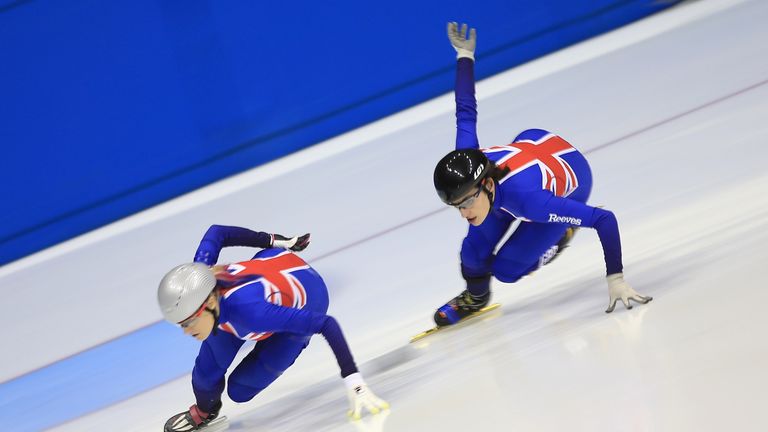 The culmination of four years' hard work and sacrifice comes in Russia and despite the success the team has consistently enjoyed at major events in that time, the unpredictable nature of Short Track means that nothing can be guaranteed - least of all medals.
The top skaters can hit up to 30mph on the bends and it only needs one mistake, not even necessarily of your own making, for a fall or collision to occur and dash any Olympic dreams. This is the harsh reality of the sport but something that the athletes have long since accepted - "that's Short Track."
Britain take a five-strong team to the Games with Performance Director Stuart Horsepool describing it as the "strongest ever" to represent the country. Chief amongst them is Sky Academy Sports Scholar Elise Christie who has been tipped as GB's best hope of a medal.
The 23-year-old will compete in all three distances - 500m, 1000m and 1500m - and despite a nasty fall at the most recent World Cup event in Kolomna, Christie will approach her second Games on something of a high having picked up the 1000m bronze medal the day after her fall.
"I got a lot of confidence from that because obviously I was injured that day," said Christie. "I couldn't leg press 30kg that morning and I leg press a lot more than that normally so I was quite surprised that I was able to cope with that and go out and win a medal. It's definitely boosted my confidence for Sochi."
In terms of the injury itself, the enforced break after returning from Kolomna was an irritation for the World Championships 1000m bronze medallist but having now returned to full training, everything is geared towards being in top condition for February's Games.
"I had a bit of time off after I got back because I had to heal," Christie explained. "I had some tears and stuff like that, minor soft tissue stuff but I had to get better before I could train which was really frustrating but I'm back to full-time so I should be fine.
"We've got a lot of hard training through Christmas and stuff, I'm trying to get all my little bits sorted. We've had a lot of meetings with nutritionists to get everything perfect for Sochi and while we're out there. So the preparation's been pretty tough."
It isn't going to get any easier before Christmas either as Horsepool revealed the plans for the coming weeks.
"We've got two weeks of really hard training. We do it in blocks, in cycles," he said. "We're going through this heavy block of training at the moment, this is a bit of light relief with the launch of the team, but they'll train right up until Christmas Eve.
"Then at four o'clock on Christmas Eve they'll pack up and leave the rink. We can't come in Christmas Day or Boxing Day because it's shut but the 27th we're in here at eight o'clock in the morning we'll train right the way through until New Year's Eve at four o'clock before they kick us out for the second time, and then we're back on the 2nd. It's 110 per cent, working as hard as we can to make that little bit of difference."
It may be about the finer details now but at the start of this season Christie began to take steps to rid herself of what Horsepool described as an "unacceptable weakness." The Livingston-born skater has always preferred skating from the front, taking the lead early and backing her power and speed to ensure that she stays there until the finish line.
It was something that undoubtedly worked. Christie was the overall 1000m World Cup champion last season, ranked number one on the planet over the distance. However, when facing a number of skaters from the same team, working together, Christie encountered problems as she was blocked off and made to race from the back.
A major aim this season was to work on race tactics, notably racing from the back, and after months of training and four World Cups to put what she had learnt into practice, Christie believes she is now comfortable and courageous enough to take this different approach to the rink.
"I think it's going to help massively because when I won the medal in Russia every 1000m race I did was from the back of the race," she said. "I've never done that before. I've never had the guts to just be patient and I did it and I think that proved a lot to the other athletes and to myself. I think I can do it both ways and I believe that now, so that gives me a lot of confidence."
Horsepool was delighted with the effort of his skater and was glowing in his praise of Christie's attitude and commitment to improving all the time.
"It's an amazing understanding that world class athletes, no matter what sport they do, they address their weaknesses," he remarked. "Everybody likes doing what they're good at but it takes a special type of character to go and do things that they're not particularly good at. Elise has done that and she's done it with an open mind-set.
"Not always easily, she's had a lot of questions but first she attacked it in training. Everyday doing things you're not good at and you're already world number one, it's an amazing performance, an amazing ability to do that - to challenge yourself as well as challenging others."
It has been tough for Christie and indeed she is bracing herself for another testing time in the next few weeks, even if it is all for her own benefit come Sochi.
"The next couple of weeks will be the full on hard training, killing yourself," she added. "My focus is to kill myself while doing things I'm not very good at so my ego's probably going to take a bit of a slap! But you've got to get on with it because it's what's best for the Games."
The pressure and expectation after her success last year was something that the Sports Scholar admitted she struggled with at the beginning of this season. Although she is now far more at ease with it, and thrilled at the way in which it is helping to promote the sport, Christie is still realistic in her appraisal of her medals hopes.
"You can't put all your hopes and dreams down to an Olympic medal with Short Track because you can win medals all year then you can fall over in every distance at the Games and you can't do much about it, you might get taken out," she said.
"That's the problem with Short Track but I think it's also why it can be so exciting for people to watch because you don't know what's going to happen at the end of that day, you can't guess."
Whilst that may be the case, it is clear that the GB Short Track team have done, and will do, everything they can do get the most out of the Christie and her four team-mates in Sochi. Much will be out of their hands once the skaters enter the rink but rest assured, what factors they can control will have been taken care of.