Duel in the Pool: Olympic silver medallist Michael Jamieson ready for Glasgow
Olympic silver medallist Michael Jamieson is looking forward to this weekend's Duel in the Pool.
Last Updated: 20/12/13 9:57pm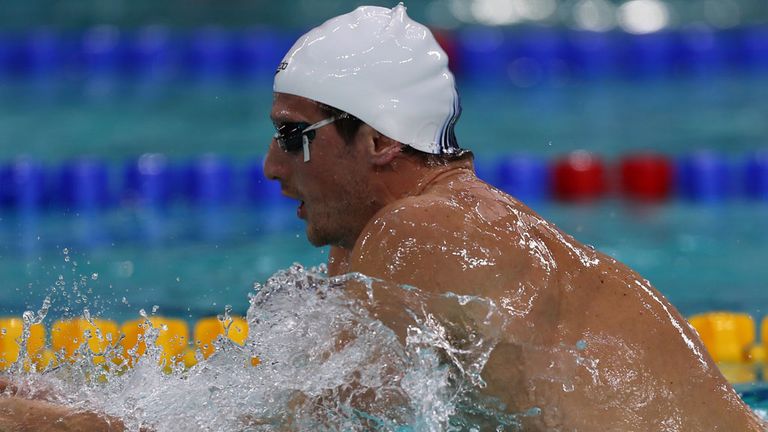 The biennial event will be held at Tollcross in Glasgow, with some of the leading swimmers in the world going head-to-head.
Jamieson, who claimed 200m breaststroke silver in the London Olympics as well as in the most recent World and European Championships, is excited to be competing in an event billed as the 'Ryder Cup of swimming.'
"This one's a little bit different, we've got a great venue here in Glasgow," he told Sky Sports News.
"It's a bit of a head-to-head line-up we have with team Europe against Team America, a similar set-up to the Ryder Cup.
"I'm here doing breaststroke so fingers crossed I can score some points for Team Europe. I think it is, in terms of the strength and depth in Europe it's as god as it's ever been.
"There are one or two swimmers missing who are competing at another event in Russia which is unfortunate.
"But aside from a couple of names we're at full strength and I'm hoping we can give the Americans a run for their money."
Health scare
Jamieson recently suffered a health scare after his heartbeat became irregular following an intensive training session but he is back to full fitness now.
"I was basically doing a max effort training circuit which is something I'd be doing eight weeks previous to this particular issue, it was just a one-off blip, I pushed myself too hard," he added.
"I got a new maximum heart rate and as a result my heart beat became irregular. I've been back training for a few weeks now and I'm sure it was just a one-off.
"I was more interested in racing back to my team mates to boast about the fact that I'd pushed myself that hard!
"I've got no worries whatsoever, I've been given the all clear and I'm looking forward to swimming fast at the Duel in the Pool."
Watch the Duel in the Pool on Sky Sports 2HD from 7pm on Friday, with the action resuming on Saturday at 2:15pm.