Winter Olympics: Geraint Hughes blogs from day 12 of the Sochi Games
Team GB's women curlers might have lost their gold medal chance but Geraint Hughes saw steel in their skip's eyes.
Last Updated: 19/02/14 4:35pm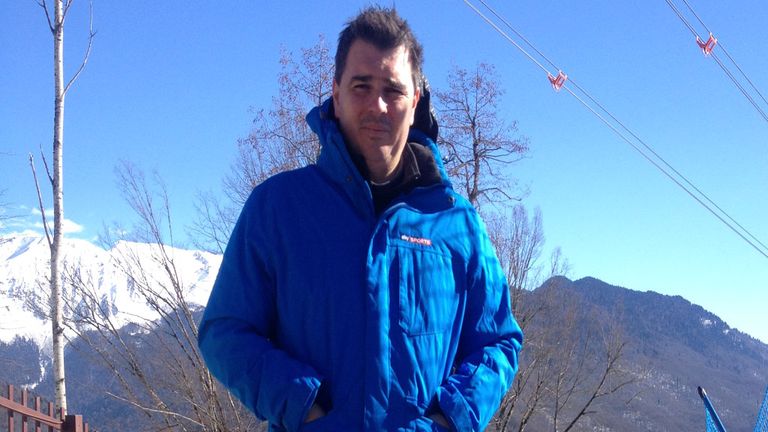 Eve Muirhead, along with her 'girls' Anna, Vicki and Claire, initially looked distraught after losing 6-4 to Canada.
I've seen that look and you must have too: the beaten look, the really beaten up look. One that says, I just don't want to be here anymore.
I'm already thinking they're going to get beaten in the bronze medal match; it'll be emotional carnage and they'll have come all this way and will leave with nothing...
But something strange happened. That look disappeared and I'm sure I saw a teeny bit of rage, a bit of anger.
Sure enough, Eve Muirhead, the 23-year-old with the steely blue eyes, was composed enough not to talk about the defeat she'd just suffered but to tell head curling coach David Hay: "We're going to win that bronze now".
Muirhead acknowledged mistakes that were made and gave credit to her Canadian opponents, but, blimey, I'm not sure I'd want to be Swiss right now.
Mission
Muirhead is a young lady on a mission; she will not leave Sochi without a medal of any colour around her neck. Switzerland stand in her way in the bronze medal match; if I were them, I'd give up now. It's going to be painful.
I've met Eve Muirhead quite a few times now and to say she is a straight-talking, no-nonsense character is putting it mildly. She knows what she wants and she makes sure she gets it.
The bronze medal match is the last-chance saloon to leave these Olympics with a smile. It can either ease the pain of not making a final or exacerbate that failure. While many debate the worth of a third place play-off in a football World Cup, the Olympic equivalent does have meaning - oh, and that medal of course, you know, the one Eve Muirhead really, really wants.
I caught up with the team yesterday on their day off, their thoughts entirely on Canada then. They looked shattered though; they've done nothing but focus on these Olympics and while they knew they had a chance of gold, they also knew it might not work out.
They didn't admit it, but you could tell in their eyes, their body language, that playing Canada in a semi-final was just too close to call. If anything it was Jennifer Jones and her crew that had a slight edge over Team GB. Now defeat has come, it's almost a relief.
Muirhead and her crew initially looked gobsmacked, but rarely do you see sportswomen or men after a heart-wrenching loss all of sudden grow in stature. Muirhead proverbially puffed out her shoulders and said: "No way! I'm not letting this go!"
Sleep well Switzerland, sleep well indeed, because you'll need all the energy you can get. Muirhead and her mob are heading your way.