Oscar Pistorius trial hears evidence of gun fired in restaurant
Oscar Pistorius injured a boxer by firing a gun and then asking his friend to take the blame, a court has heard.
Last Updated: 05/03/14 3:40pm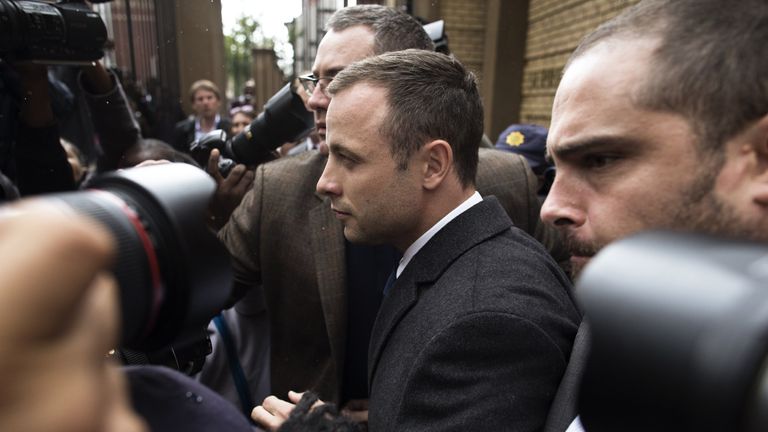 Kevin Lerena, giving evidence before the third day of Pistorious' murder trial was adjourned, said he and others were dining with the Paralympian in Johannesburg on January 13 last year.
Mr Lerena said he saw Pistorius' friend Darren Fresco pass a gun to him under the table, shortly before a shot went off.
Sky News correspondent Martin Brunt said: "The most dramatic evidence this morning has come from a middleweight boxer, a friend of Oscar Pistorius, a man called Kevin Lerena.
"He's told the court a month before the shooting of Reeva Steenkamp he was in a restaurant with Oscar Pistorius and two other people. He became aware of a gun being passed under the table. He did not see it but he he said he knew that was happening.
"A gun was passed from one of those at the table to Oscar Pistorius and then suddenly there was a bang and a hole appeared in the floor.
"He said he was in shock but when he looked down there was a hole in the floor, centimetres away from his foot.
"He said the bang was followed by silence and then Oscar Pistorius, according to this boxer witness, said: 'Is everybody okay?' He apologised for what had happened and then he tried to pass the blame to a friend of his. He said to the man who had given him the gun 'Look, can you say it was you I have got a lot of media hassle at the moment. When people ask can you take the blame for me?'"
Pistorius faces four charges: premeditated murder, the illegal possession of ammunition and two further counts related to shooting a gun in public in two separate incidents before the killing.
Pistorius, known as Blade Runner, denies all of the charges, including the allegation he deliberately killed his girlfriend Steenkamp after a jealous row.
He maintains he shot Ms Steenkamp after mistaking her for an intruder.
You can follow proceedings throughout the trial on Sky News