Oscar Pistorius back in court for day four of murder trial
Oscar Pistorius is back in court this morning for day four of his murder trial.
Last Updated: 06/03/14 11:32am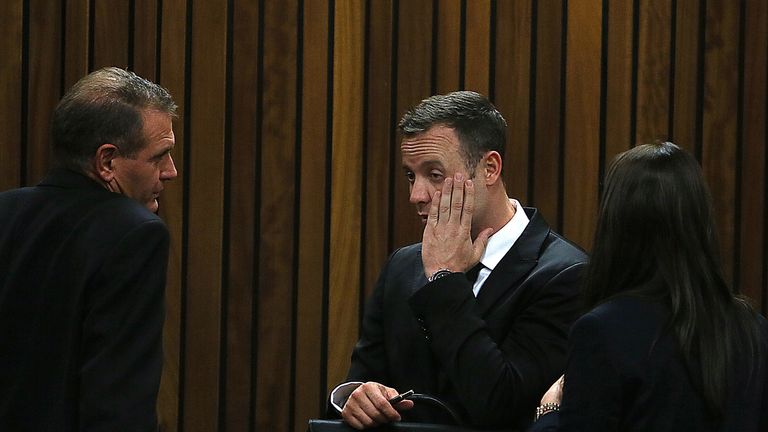 The Paralympic star denies intentionally killing girlfriend Reeva Steenkamp on February 14 last year, insisting he mistook her for an intruder. He also denies charges of illegally possessing ammunition.
Sky News' Jeremy Thompson, speaking from Pretoria, said: "It's going to be a particularly tough day, one imagines, for the accused.
"Today is the 12th anniversary of the death of his beloved mother, Sheila. She was just 43 when she died of medical complications and he was 15 at the time. Such was the influence of his mother, he's actually got the date of her death tattooed on his arm.
"The local papers are all talking about him feeling the strain.
"They talking about how the State is trying to expose the 'real Oscar' - they were trying to build the picture yesterday of him shooting a gun in a crowded restaurant. That was an accident but they're trying to paint a picture of him as a trigger-happy man."
Sky's Alex Crawford said: "We're expecting more testimony from one of Oscar Pistorius' neighbours, Charl Johnson. His testimony was adjourned yesterday but he's already said he heard lots of screams from a woman.
"The defence has been trying to chip away at that, insisting there was confusion between a man and a woman's voice, between the sound of a cricket bat on the toilet door and the sound of gunshots.
"We're also expecting later today to have further state witnesses - one of whom is Samantha Taylor, one of Oscar Pistorius' former girlfriends.
"Again, there'll be another attempt to paint a picture of a man who was reckless with firearms."
On day three, the court heard how Pistorius injured a professional boxer by firing a gun in a restaurant and then asked his friend to take the blame.
Kevin Lerena said he and others were dining with the Paralympian in Johannesburg on January 13 last year and that saw Pistorius' friend Darren Fresco pass a gun to him under the table, shortly before a shot went off.
You can follow proceedings throughout the trial on Sky News