Winter Paralympics: Great Britain's wheelchair curlers take bronze medal
Skip Aileen Neilson inspired Great Britain's wheelchair curlers to Winter Paralympic bronze with a 7-3 win over China.
Last Updated: 15/03/14 2:38pm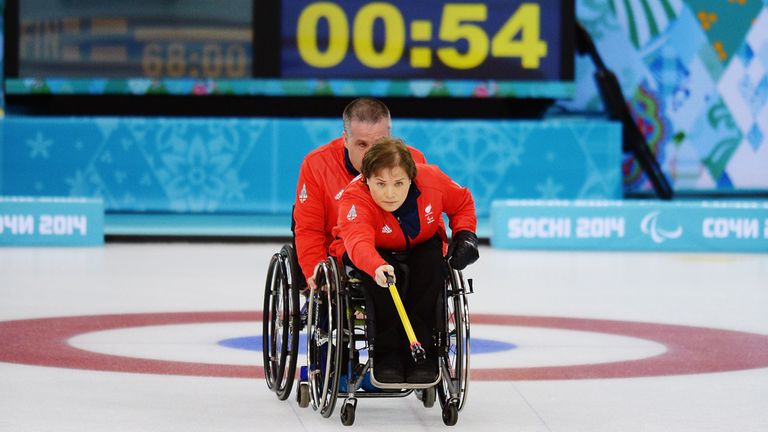 Neilson's rink, beaten 13-4 by hosts Russia in their semi-final on Saturday morning, regrouped superbly to fight back from an early 3-0 deficit.
Victory took Britain's medal tally in Sochi to six.
Neilson was in tears at the finish as she celebrated with her team-mates, Angie Malone, Jim Gault, Gregor Ewan and alternate Bob McPherson.
Britain had lost 6-3 to the Chinese in their final round-robin match on Thursday, but in the bronze medal showdown at the Ice Cube Curling Centre Neilson and her team rose to the occasion.
The skip produced her best match of a tournament in which her all-Scottish rink have been frustratingly inconsistent, mixing impressive wins with heavy defeats.
It was thanks to her they were not trailing by more than 3-0 after two ends, a rescue effort in the first limiting their opponents to a one-stone success.
A pin-point takeout from the 42-year-old in the third end made it 3-2 and in the next she forced an error from counterpart Wang Haitao to put her side 4-3 in front.
One-stone successes then followed in the fifth, sixth and seventh ends to leave China with too much ground to make up.
Neilson finished the match with an accuracy of 75 per cent.
Malone, the only remaining member of the 2006 silver medal-winning team from Turin, who was brought in for McPherson for the match, also justified her inclusion with 75 per cent accuracy.