Olympic champion Jessica Ennis-Hill hopes to inspire kids
Olympic champion Jessica Ennis-Hill hopes to inspire kids into sport.
Last Updated: 27/03/14 10:07pm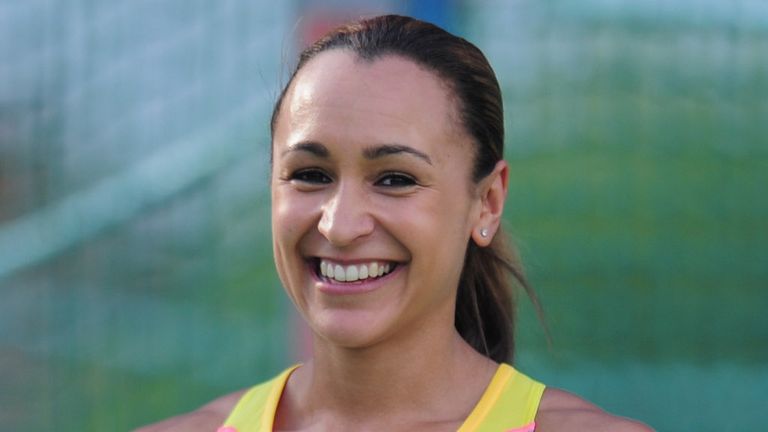 Reigning Olympic heptathlon champion Ennis-Hill invited the secondary school pupils to her training centre in Sheffield, as part of the Sky Sports Living for Sport programme.
The scheme is a free initiative for all secondary schools that uses sports stars and skills to improve the lives of young people across Britain and Ireland.
Ennis-Hill has been an ambassador for the initiative for the past year, and says it was a personal ambition to stage the special sports day.
"When I first got involved with Living For Sport it was always an idea that I had to get as many schools together as possible, and as many young people alongside the mentors to have a way of inspiring them," she said.
"Winning my Olympic gold medal was one of the highlights of my career but being able to meet people to see how sport has inspired them, and how my performances along with the other British athletes has inspired them to take up sport, that's something that you can't really put a medal on. It's just an incredible feeling."
Ennis-Hill was joined by fellow Olympic champion Darren Campbell, as well as 18 other mentors, each a world class athlete in their own right.
The stars gave the youngsters a chance to try various sports and fine tune their skills, but the day was dedicated more to passing on key life lessons that identifying sporting stars of the future.
Dream
Andrew Bridge, British Basketball League Trophy winner said he hoped the pupils would leave the day with something simple: "Just a dream."
"I really think they've got to have something to aspire to. If you've got that in your life you work towards it, and if you don't, that's sometimes when you might got down a path that's not great for you. If you've got a target and a goal, it gives you direction in life, and generally the kids that do that achieve what they want to."
Olympic bronze medal-winning hockey player Alex Danson echoed those sentiments after hosting a day of hockey sessions.
"The day's been all about our young people having a go at a different range of sports," she said. "But it's really linked to a programme which uses the skills and values that we learn in sport - like mental toughness, people skills, planning for success - that are so cross curricular. They can boost life skills and really increase that self-confidence. It's been just a wonderful day."
As well as coaching the students in sporting skills, the mentors share the stories of their own personal journeys and what lessons they've learned through sport.
Darren Campbell, a fellow Living For Sport Ambassador along with Ennis-Hill was host and compere for the day. For him, the message he hoped to deliver was simple: "Never be afraid to dream."
"Any top sportsperson that you speak to will tell you that at some point they dreamt maybe about their station but they followed that dream through and got all the way to the top. So if we could that message with the young people then we can change their mentalities."