Oscar Pistorius cross-examined for fourth straight day at trial in Pretoria
Oscar Pistorius broke down twice as the gruelling cross-examination of the Olympic runner moved into a second week.
Last Updated: 14/04/14 5:02pm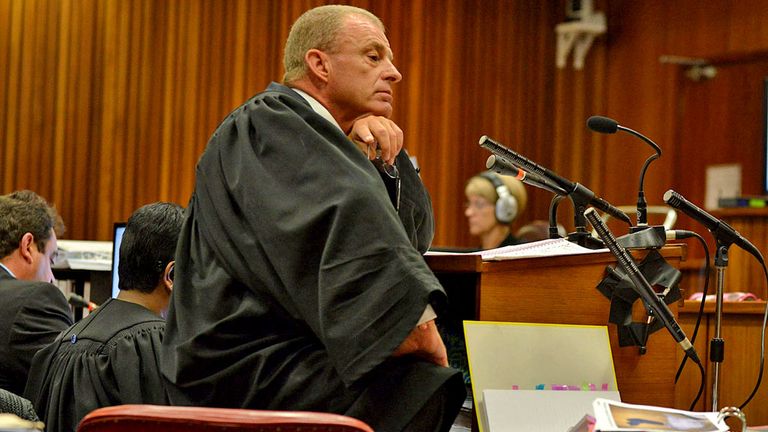 Prosecutor Gerrie Nel accused Pistorius of concocting evidence on the fourth day of his defence against the charge of murdering Reeva Steenkamp on Valentine's Day last year.
Nel said the 27-year-old argued with his girlfriend shortly before shooting her dead.
"It's the state's case, Mr Pistorius, that she wanted to leave and that you weren't sleeping, you were both awake," said Nel.
"That's not correct my lady, that's untrue," Pistorius replied softly.
"There was an argument," Nel said, drawing another denial.
Nel repeatedly described the athlete's explanation that he accidentally shot Steenkamp through a locked bathroom door as "so improbable that it cannot be reasonably possible".
Questioning
The prosecutor's relentless questioning has elicited tears and taut replies from the world-famous double amputee, who insisted he and the 29-year-old model were in a loving relationship.
During the relentless back-and-forth Pistorius and Nel at times appeared to come close to bickering.
Nel complained that Pistorius was being evasive and challenged him: "Today I pick up you're not sure about things, is anything wrong?" Nel asked. "You're fine?"
Pistorius grew increasingly restless, wiping his face, pinching the bridge of his nose and clenching his jaw.
He will likely remain on the stand for another few days as a witness in his own defence.
Pistorius's lawyers have said they will call up to 17 witnesses, including ballistics experts after their client admitted he had shot Steenkamp on February 14.
Originally due to last for three weeks, the trial is in its sixth week and has been extended until May 16.
Pistorius admitted to killing Steenkamp but said it was an accident, firing his gun after mistaking her for an intruder.
Follow all the Pistorius trial news on Sky Sports News throughout the week