MLB: St Louis Cardinals put end to Milwaukee run; Bryce Harper stars for Nationals
Last Updated: 15/04/14 8:32am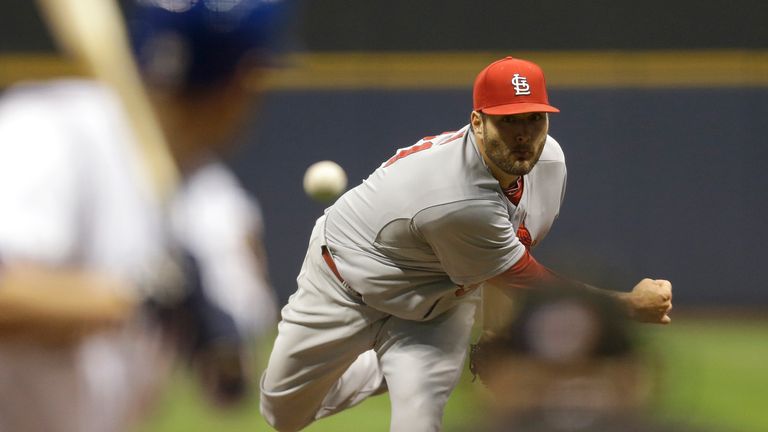 The Milwaukee Brewers saw their nine-game winning streak come to an end with a 4-0 shut-out loss at the hands of the St Louis Cardinals.
Jon Jay hit a three-run homer and right-handed pitcher Lance Lynn struck out 11, holding the Brewers to three hits - of which Jean Segura managed two of them - and three walks over seven innings.
Carlos Martinez took over from starter Lynn and retired all six batters he faced, making sure St Louis blanekd an opponent for the second time this season.
             
A six-run blitz in the sixth innings helped the Seattle Mariners ease to a 7-1 triumph over the Texas Rangers.
The Mariners (7-5) sent 11 hitters to the plate in the sixth and put the game out of reach with five hits, a walk and two errors, giving pitcher Roenis Elias the chance to earn his first major-league victory.
Baltimore beat the Tampa Bay Rays by the same score, Orioles pitcher Wei-Yin Chen bouncing back from two shaky starts to give up just one run over six 1/3 innings.
The Washington Nationals were also convincing winners on Monday, thrashing the Miami Marlins 9-2 as Bryce Harper came close to hitting for the cycle.
The Nationals center fielder went 3-for-4 with a single, double and triple before being removed in the seventh inning when he only needed a home run to complete the set.
The Atlanta Braves got two homers from Dan Uggla, the second of which was a grand slam in the ninth inning, to beat the Philadelphia Phillies 9-6 at Citizens Bank Park. Evan Gattis also homered twice for the victorious Braves.
There was also late drama in California as pinch-hitter John Jaso smashed a two-run home run to see the Oakland A's to a thrilling 3-2 victory over their hosts, the Los Angeles Angels. His strike broke a drought that had seen neither team manage to post a run since the fourth inning had been completed.
The the San Diego Padres sneaked by the Colorado Rockies 5-4, while Lucas Duda tied a career high with four hits and drove in two runs as the New York Mets earned a 7-3 win over the Arizona Diamondbacks.
Meanwhile, the Pittsburgh Pirates and Cincinnati Reds were locked together at 7-7 after six innings before rain forced a suspension in play. The game will be completed on Tuesday.