MLB: Oakland A's win see-saw clash; Prince Fielder ends home run drought for Texas
Last Updated: 16/04/14 9:37am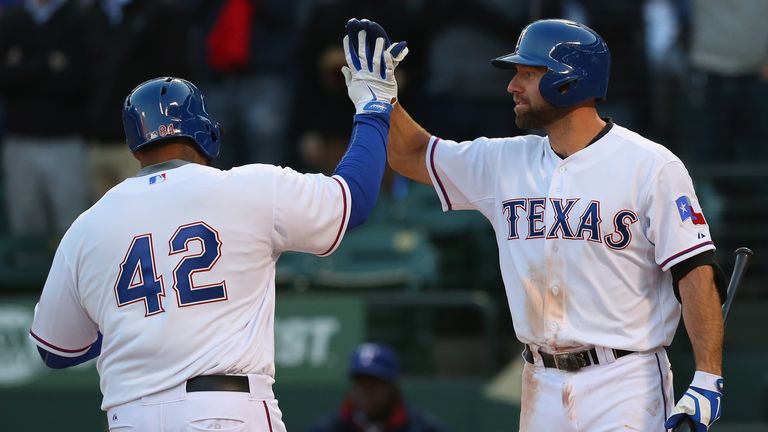 The Oakland A's needed an RBI double from Josh Donaldson in the 11th inning to settle a see-saw clash with the Los Angeles Angels in Anaheim.
The Angels led 6-3 after the fourth inning before the A's rallied for a 9-6 lead in the eighth, only for  Mike Trout's two-run homer in the bottom of the ninth to send the contest into extra innings.
Prince Fielder ended a 13-game streak without a home run to help the Texas Rangers beat the Seattle Mariners 5-0.
After Fielder had taken former Texas draft pick Blake Beavan deep to right centre to lead off the second inning, Kevin Kouzmanoff blasted another homer two pitches later to
Alexei Ramirez scored the game-winning run for the second straight game, racing home from second on a throwing error by shortstop Xander Bogaerts to help Chicago White Sox beat the Boston Red Sox 2-1.
Jhonny Peralta and Matt Holliday homered for the St Louis Cardinals while Shelby Miller struck out seven in six innings to see off the Milwaukee Brewers 6-1.
Routed
The New York Mets routed the Arizona Diadmondback 9-0, while the Miami Marlins were convincing 11-2 winners over the Washington Nationals thanks in no small part to a three-run homer from Giancarlo Stanton.
The Toronto Blue Jays scored five runs in the sixth inning to help them cruise to a 9-3 triumph over the Minnesota Twins.
Things were much closer between the Colorado Rockies and the San Diego Padres, the former coming out on top 3-2 thanks to a in-field single in the fifth innings from Wilin Rosario.
Rookie right-handed pitcher Yordano Ventura earned his first career win as the Kansas City Royals toppled the Houston Astros by a 4-2 scoreline.
The Pittsburgh Pirates returned to complete their game against the Cincinnati Reds, which had been delayed on Monday by rain, and duly recorded an 8-7 win, only to then lose the second 7-5.
The games between the Tampa Bay Rays and the Baltimore Orioles and the Chicago Cubs and the New York Yankees fell victim to bad weather. The Cleveland Indians and the Detroit Tigers alao failed to see any action, while rain ruined the clash between and the Atlanta Braves and the Philadelphia Phillies.