Yvette van Schalkwyk tells Pretoria High Court that Oscar Pistorius was genuinely distressed
Yvette van Schalkwyk told Pretoria High Court that Oscar Pistorius was genuinely upset by Reeva Steenkamp's death.
Last Updated: 08/05/14 5:03pm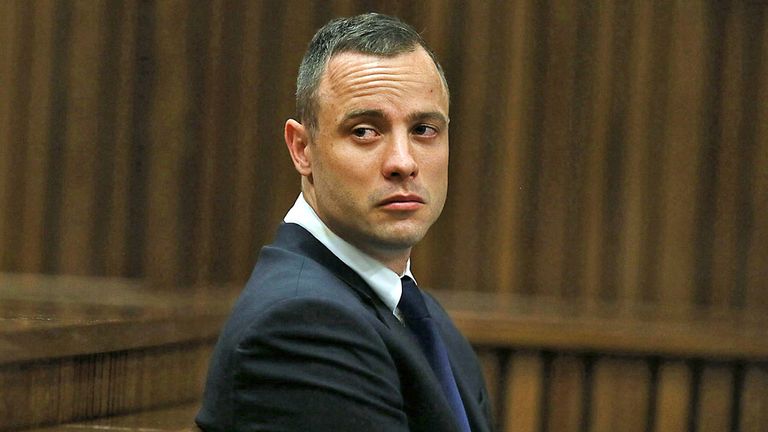 Van Schalkwyk was called up to the stand on the 28th day of the Pistorius murder trial in South Africa after becoming upset by media reports that claimed the Paralympian was hiding behind tears and insincere in his apology to the Steenkamp family.
The social worker had seen the Paralympian while he was in custody before his bail application and served as his probation officer after he was granted bail.
"From the moment I saw him, I saw a heartbroken man who was suffering emotionally," said van Schalkwyk.
"I saw a man who was in mourning and was sorry for the loss. He spoke to me about the plans they had with Reeva for the future and about her parents and the suffering of her family."
Van Schalkwyk denied feeling sorry for Pistorius, adding: "After 24 years in probation you've got empathy. There's a difference."
State prosecutor Gerrie Nel said her evidence should be inadmissable because it did not relate directly to the charges - but Judge Thokozile Masipa turned down his objections, pointing out that he had questioned Pistorius's sincerity during the trial.
Anaesthetist professor Christina Lundgren had earlier cast doubt on prosecution claims that a late-night argument had occurred with Ms Steenkamp before her boyfriend shot her.
Prosecution witness Gert Saayman, a forensic pathologist, told the court earlier in the trial that the athlete's girlfriend ate at about 0100, roughly two hours before her death on Valentine's Day last year.
But Lundgren said any attempt to determine when Steenkamp ate is "purely speculative," suggesting the food the murder victim ate contained "insoluble fibre" - vegetables - that may have not been digestible.
Nel questioned Lundgren's claim, saying there was nothing about a chicken stir fry meal that would cause Steenkamp's stomach to empty at a slower rate.
Pistorius says he was in bed asleep in his upmarket Pretoria home for five hours before 29-year-old Steenkamp was killed.
The Paralympic gold medallist shot the model and law graduate four times with a nine millimetre pistol in what prosecutors charge is premeditated murder following an argument.
The 27-year-old claims he mistakenly shot Steenkamp through a locked toilet door, believing she was an intruder.
The defence is expected to conclude their case early next week, after the state's cross-examination of their witnesses was quicker than had been expected.
Pistorius is accused of murdering his girlfriend Reeva Steenkamp, but he claims he shot her by accident.